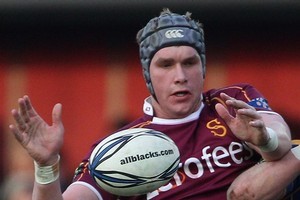 Josh Bekhuis faces one of the sternest tests a lock can meet in the Super 15. Tomorrow night in Dunedin, the Highlanders lock gets the chance to measure himself against the Crusaders' George Whitelock and Brad Thorn, the favoured locking combination on the All Blacks 2010 end-of-year tour.
Bekhuis is excited about playing the Crusaders because the South Island derby brings out the best in both teams. The 24-year-old is in his third year of Super rugby and will be playing his 31st game for the Highlanders.
"We are always up for the game," Bekhuis said. "It is important for the team and helps us to bring out that little bit extra."
Bekhuis is encouraged by the support the Highlanders are getting.
"The big and vocal crowd encouraged us when we ran on to Carisbrook to play the Chiefs," he said. "We feel the crowd and their support motivates us during the game."
The Highlanders squad has bounced back quickly from the 18-6 loss to the Stormers at Cape Town last weekend.
"We know what we have to work on and control for the Crusaders game," he said. "As long as we keep to the game plan we will succeed."
Bekhuis is one of the senior members of the Highlanders squad and is used to the hard knocks from the past and is finding it easier this year.
"The competition is still as hard but your experience makes it easier to handle the pressure."
Last year the Highlanders won only three games during the entire Super 15 competition. This year they have three wins from the first four games.
"There is a positive feeling in the team and the environment is better and we enjoy playing the game together," he said.
Bekhuis felt that the new management personnel was making a difference and the "senior boys" in the team were helping.
"We get on very well together," he said. "We are like a family and are playing for each other."
There is a large Southland contingent in the team and they are used to winning after their Ranfurly Shield tenure last year.
"We had a taste for winning" Bekhuis said. "But there are also players from Wellington and other unions that have helped us develop a culture of winning."
- OTAGO DAILY TIMES