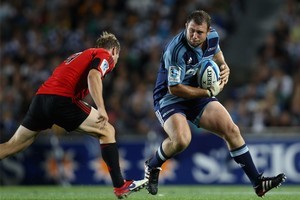 Those with a colourful descriptive sense reckoned Tony Woodcock's farm gym looked like a scene out of Rocky.
"You expected to see some carcasses attached to the system he had out there," one recalled.
That home gym allied to Woodcock's work ethic, determination and prowess began to create a serious rugby reputation for the Rodney College student.
It almost added the Helensville farmer to an unwelcome list of farm statistics as well.
"I had this personal gym," he recalled on the eve of his 100th Blues match tomorrow against the Hurricanes.
"I had a wee set-up when my uncle loaned me some of his gym gear and I set it all up in the woolshed. But that stopped when I had an accident in there. I got stuck with the bar on my chest, but I managed to get it off me.
"No one was around and I had too much on the bar. I managed to roll the bar down my body and get it off me but ... It was a warning to make sure I left the collars off the bar so you could tip the weights off if necessary."
Woodcock survived and follows fellow frontrower and captain Keven Mealamu on to the list of those who have played 100 matches for the Blues since his 2002 introduction. The 1.84m, 120kg loosehead prop is someone who always gets the job done.
He admits there have been games when he has been tested, when opposing tightheads have been very awkward opponents, but Woodcock likes to think he can sort out the issues and come up with a solution.
That has always been his way. He likes to nut it out, use his technique and skills - rather than his dukes - to settle differences.
His Harbour Marist club coach James Iversen remembers a club game about three years ago when Woodcock made a rare appearance against a gung-ho opponent.
"This young guy thought he was good and threw one or two as well, but Woody just ground him down, turned him inside out so that at the end of the game his rival's neck was somewhere close to his bum. He is so matter-of-fact in what he does.
"He comes along to club practices occasionally, but when he does, the lift he gives us is fantastic. The others just follow, he is a "do-as-I-do" sort of bloke.
"There was a bit of pressure on him a few years ago, but he seems to have reinvented himself and is at his best in tests. He is the thinking-man's prop, rarely aggro or personal on the field, he just gets the job done."
Woodcock seems unfazed by his approaching milestone. He has been texting All Black teammates Andrew Hore and Ma'a Nonu, the Hurricanes pair also reaching 100 games of Super rugby tomorrow.
"I spoke to Horey, we've got a wager on and I'm sure there will be a bit of banter in the first few scrums," Woodcock admitted.
Otherwise the 30-year-old is treating this game like any other. He does not like his emotions to fluctuate much because he reckons his form follows.
"I try and prepare the same, have the same mindset and get some consistency. I've not had too many injuries, but that's luck really - that'll do with that sort of talk, I think."
A glare follows topped with a tasty smirk. Yeah, understood Tony, we'll veer away from that subject but note you are a little superstitious. Let's get on to rugged rivals then.
"When I first started some of the Bok tightheads like Cobus Visagie were hardnuts. There were plenty of scrums I came out of and saw stars and what-not, but these days it is guys like Owen Franks and your own teammates.
"You know you are going to get a good contest with Bismarck du Plessis and they won't do too much that is illegal, they try and do their best to be technically sound as they can."
Woodcock likes his scrums, but would be quite happy if the numbers dropped.
"Less mistakes would mean a more freewheeling game, but it is enjoyable to get a team down in the corner and try and scrum them," Woodcock grinned. "It would be a shame if scrums disappeared, they are a key part of rugby union."
Some massive men have played prop, but they were unlikely to grind opponents down, said Woodcock. Bigger men often had less control of their technique and body position. Technique is the key, and Woodcock has worked hard on that with Blues coach Mike Casey and All Black scrum doctor Mike Cron.
"It is all about practice and kms on the clock, they are the keys. I think working on the farm gave me a natural help. It gives you natural strength if you are doing firewood or putting fenceposts in. It is not taxing work, but the hours on end gives you a base."