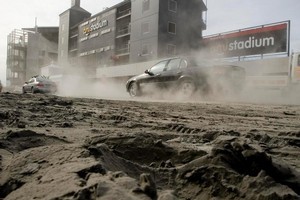 Canterbury rugby personalities ruefully accept that moving the Rugby World Cup matches from Christchurch was inevitable.
"Realistically, it's a bit of a no-brainer," said former All Black and Canterbury Ranfurly Shield-winning captain Sam Broomhall, even though he had bought tickets for the matches.
The decision was a huge blow for many people, not just businesses, he said.
"Everyone had been saying the right things (about keeping matches here), but when you get down to 'Ground Zero' it's hard to see how Christchurch could handle the number of people coming," he said.
Former All Black and media commentator Richard Loe also bought tickets.
"It's a damned shame," he said. "But without a field, you can't play the game."
As a farmer he did not believe a new pitch could be grown and prepared at AMI Stadium in time for the cup.
"I'm not in Christchurch very often, but I was on a couple of days last week, and in the centre it's a real bomb site," he said. There were going to be huge delays getting around the city for some time.
Mr Loe said that while ticketholders were being given the opportunity to buy tickets for the reallocated games, "the quarter finals in Auckland would cost an arm and a leg, and you try to get a hotel!"
Canterbury legend Fergie McCormick had also accepted the inevitable.
"It just happens," he said.
"You can't fight against nature."
The McCormick family has overdosed on earthquakes.
Fergie was driving to a funeral at the Linwood Ave crematorium on February 22 when "the road started coming at me a metre high". His son Andrew was in town for the September quake before he returned to Japan where he coaches. Fortunately he was unhurt in last week's disaster.
- STAR CANTERBURY