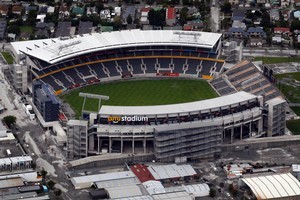 And then there were 12. The news Christchurch feared and the rest of New Zealand anticipated was delivered in solemn tones.
It was the latest wound for the Garden City - five pool games and two World Cup quarter-finals were being shifted because there were no guarantees AMI Stadium could be repaired in time for the global rugby tournament.
Those matches and the influx of visitors may have been a salve for some of the city's suffering which came with the February 22 earthquake. But with a cluster of reports that the rugby arena was badly damaged, the World Cup authorities' only option was to cancel the games in Christchurch.
So the number of host stadiums dropped by one, with the South Island left to stage matches in Invercargill, Dunedin and Nelson.
Even staunch Cantab and Wallaby coach Robbie Deans was pragmatic enough to accept he would not bring his side to Christchurch. He had been "home" this week and felt the news would be bad.
While the removal of World Cup matches was distressing for the city and New Zealand, it was more important that Christchurch and the lives of its inhabitants were rebuilt.
The IRB is not famed for speed or wisdom in some of their decisions. It is made up of a cautious group, unwilling to be bullied by public opinion. They love their committees, sub-committees, focus and encounter groups, reports and administrative introspection.
But 23 days after the quake, that group's ingrained caution led them to the only sensible decision. There was too much doubt about the stadium rebuild; it might happen but there were too many uncertainties and a rebuild is no time for guesswork or shortcuts.
There was nowhere else in Christchurch where World Cup matches could be held. No arena with enough capacity to come anywhere near that of AMI Stadium.
The New Zealand Rugby Union was already facing a hefty loss in staging the seventh global tournament, they could not take a further hit. The matches scheduled for Christchurch had to be switched to grounds with a combined capacity to equal or better AMI Stadium.
It was no doubt an emotional decision. It has removed a city that was central to the all-New Zealand hosting approach, a city which hosted matches at the inaugural 1987 World Cup including two All Black tests.
However, when the officials put aside the emotional fallout from the February earthquake and concentrated on the reality of Christchurch staging World Cup matches, they were left with an unpalatable but straightforward conclusion.
William Webb Ellis would have nodded in accord - no one would pick up the ball and run with it during his tournament in Christchurch this year.