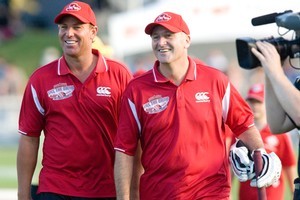 Wellingtonians came out in force to support quake-stricken Christchurch as New Zealand cricket greats were joined by a host of famous faces in the "Fill The Basin for Christchurch" Twenty20 match today.
For the record, the star-studded Canterbury Invitation 11 were able to put together a score of 226 in their 20 overs but, perhaps more importantly, Prime Minister John Key was able to hit Australian cricketing great Shane Warne for a boundary in the innings break, with Fujitsu offering $100,000 to Christchurch's earthquake appeal if the ball crossed the ropes. The "Wellington Legends" side were 135 for 2 after 12 overs of their chase.
Spectators packed the Basin Reserve, many sporting red and black in solidarity with quake-hit Christchurch, to see the Canterbury Invitation 11, led by former New Zealand captain Stephen Fleming and including Australian spin legend Warne, play a "Wellington Legends" side led by batting great Martin Crowe.
The event was organised by Fleming, who was born in Christchurch and played for Canterbury before moving to Wellington.
The teams were supported by a list of big names, including actor Russell Crowe, who coached the Canterbury team, All Blacks captain Richie McCaw, Hobbit actors James Nisbet - who coached the Wellington team - Sir Ian McKellen and Martin Freeman, Mr Key and Christchurch Mayor Bob Parker, sporting his trademark orange jacket.
The crowd was reminded of the serious reason they were there as they, along with the teams stood for a minute of silence for quake-hit Christchurch and for the victims of Japan's massive quake and tsunami, which struck on Friday.
Canterbury got off to a rollicking start with Nathan Astle and Mark Greatbatch smacking 100 off 54 balls before Greatbatch was bowled by Ewen Chatfield for 47 with the score on 101.
The crowd reserved some of its biggest cheers for local rugby hero and former All Black Tana Umaga when he had Craig McMillan caught off his own bowling before taking a brilliant diving catch to dismiss Dion Nash an over later.
The Canterbury team finished up with a formidable total of 226 off their 20 overs, with Astle top scoring with 61 off 29 balls.
The action did not let up in the innings break, with a "nervous" Mr Key taking on Warne with $100,000 for Christchurch at stake.
Mr Key had no reason to worry, however, and after a cheeky underarm delivery from Warne first up he hit three boundaries, the first of which narrowly missed McKellen, who was leisurely sitting in a deck chair at square-leg.
Mr Key's confidence improved after hitting his second boundary, and he narrowly missed out on clearing the ropes after boasting he was going to hit the next ball for six.
Richard Hadlee opened the bowling for Canterbury but was unable to take a wicket despite appealing almost every delivery.
Wellington got off to a good start with Matthew Bell hitting 61 off 23 balls before he was caught by Nash off the bowling of Justin Vaughan.
The teams: Wellington Legends XI: Martin Crowe (captain), Andrew Jones, Bruce Edgar, Chris Nevin, Ewen Chatfield, Gavin Larsen, Jason Wells, Jonathan Millmow, Matthew Bell, Richard Petrie, Roger Twose, Tana Umaga.
Canterbury Invitation XI: Stephen Fleming (captain), Nathan Astle, Geoff Allott, Mark Ellis, Mark Greatbatch, Sir Richard Hadlee, Rod Latham, Craig McMillan, Dion Nash, Adam Parore, Justin Vaughan, Shane Warne.
- NZPA