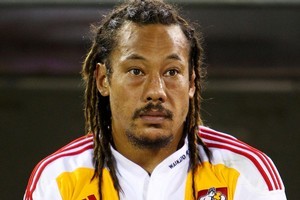 Like some kind of overwhelmed Oscar winner, Tana Umaga promised himself he would keep it all together when he played against his old team.
But that promise was hard to keep. The 37-year-old, who played 122 Super Rugby games for the Hurricanes and was given one of the more memorable farewells by the people of Wellington when he left in 2007, found he was welling up near kick-off.
He didn't sleep well and once he got to the ground it hit him hard. "It was a bit emotional for me," he said. "As it got closer to the game, I struggled a bit. I played for this [Hurricanes] team for a long time and it's not something you can just let go. It was hard for me but I'm a professional and just have to get out and do the job for the team I am playing for. I don't think it affected my game."
On that last point, no one would disagree. Umaga was one of the more prominent figures in the Chiefs backline, crashing onto the ball at pace and making one memorable support run when he dummied left and flipped an off-load the other way to create the Chiefs' second try.
It wasn't quite vintage Umaga. The days of him being the overt superstar are over, but he does his bit, still earns his keep and had to contend with some good-natured and predictable targeting from his former team-mates.
"I got a foot on my chest from Jason Eaton," he said. "I looked up and saw it was him and he gave me a little bit of a smile."