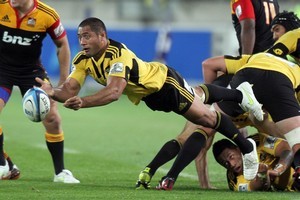 Sometimes rugby doesn't make sense, doesn't have an acute sense of justice. The Chiefs will feel like that this morning, wondering how it was they played most of the rugby, looked the more composed, accurate and threatening of the two teams and yet came away the losers.
Conversely, the Hurricanes will be quietly grateful that they slipped four points in the trunk, slammed the lid and moved on.
How they won is still a bit of a mystery. They didn't have dominance anywhere, didn't create much and spent most of the game inside their own half. What they did do superbly well was scramble on defence - put themselves about and die for the cause.
They had to - the Chiefs didn't stop coming at them. They scored with two minutes to go through Tim Nanai-Williams and were still running when the hooter went. That passion will take the Hurricanes far if they can find the more direct approach in the weeks to come and add some polish to the basic skills which were at times alarmingly poor.
The beauty of local derbies is that they serve as a forum for every euphemistic cliché so no one ever feels cheated by the occasion.
Dropped balls, missed tackles, lateral lines of attack and generally having little idea - can all be put down to the pressure induced by playing a local rival - typical, full-blooded, derby fare.
Given the thousands of empty seats at Westpac Stadium, a once loyal following are already sceptical and won't want to be fooled by anyone trying o gloss the story of last night.
If the Hurricanes don't find some direction, some cohesion and some accuracy soon, their season is going to be one to forget. They were good enough, or lucky enough, to scrape past the Chiefs, but the more this competition goes on, the more the Chiefs don't look like they are serious contenders.
Something was missing when the Hurricanes played the Highlanders in the opening round and they clearly didn't manage to find it in the interim. How they miss Piri Weepu. How they miss Ma'a Nonu, too, even at his idiotic worst, he still takes them forward; still bashes big holes and still gives them hope - a tangible presence in which they can believe.
If it hadn't been for the searing pace and aggression of both Andre Taylor and Julian Savea, the Hurricanes would have offered precisely zip in the way of potent attacking threat.
Cory Jane was sharp and productive when he was involved, but the game rarely came his way - even when he went looking.
Victor Vito needed more support - it looked like his team-mates too often thought the fight was his and his alone.
Aaron Cruden needed to creep closer to the traffic and force the Chiefs to defend on the advantage line, not the vital yard in front of it. He needed to impose himself more, too.
It didn't look like that was happening and Mark Hammett obviously felt a similar lack of confidence in his first five, taking him off after 55 minutes.
Cruden's departure coincided with that of Donald's - the Chiefs man having to limp off with what appeared to be a bang on the knee.
At that point it felt like the Chiefs' superior bench would take them home. They had become so dominant at the breakdown where Scott Waldrom was in a class of his own that it felt like the Chiefs would have enough possession. The Chiefs back-row was enabling them to play wider and faster. But the Hurricanes clung on and now the Chiefs are left with a major uphill battle.
No one has made better acquaintance with hard luck than the Chiefs so they know the drill. They know that they can only find answers through honesty, and while they were more cohesive for large periods, they made critical errors, basic ones that really hurt them.
They will also have to look at their set-piece, the lineout in particular going astray too often to be a threat at this level.
Hurricanes 29
J. Schwalger, T. Keats tries
A. Cruden 3 pens, con
D. Kirkpatrick con, 2 pens
Chiefs 26
S. Donald, S. Waldrom, T. Nanai-Williams tries
S. Donald 2 pen, con
M. Delany pen
HT: 10-13