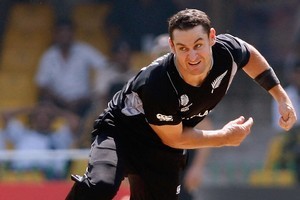 Luke Woodcock and Nathan McCullum might have their best chance today to showcase their spin bowling abilities in a one-day international for New Zealand.
Both are looking to assume the tweaking mantle when skipper Daniel Vettori eventually retires from the 50-over format of the game.
The Black Caps meet Canada in their World Cup group match at Wankhede Stadium on a wicket renowned for being bowler-friendly, even for spin, with its extra bounce.
The slow left-arm orthodox spin of Woodcock is expected to replace Vettori, who hopes his knee will recover in time to play against Sri Lanka on Friday. McCullum will take on the senior spin bowling all-rounder role and might open the attack.
While Vettori is 32, the challenging pair are hardly youthful - McCullum is 30 and Woodcock turns 29 this week. The once-favoured Jeetan Patel, 30, has disappeared from selectorial discussions while Kane Williamson, 20, is seen as more of a batsman who bowls the occasional spell of off-spin.
Jesse Ryder, 26, is also considered a work in progress as a spinner if injuries prevent him playing a future role with his wily seam and swing.
This is McCullum's chance to shine with the ball. His role has generally been to contain, even with the new ball. That has still put pressure on batsmen to force their shots from the other end and is backed by an economy rate of 4.62, despite taking just 14 wickets at 49.42 in 23 matches. His lower order striking at a rate of 84.16 and a fine set of hands in the field means he earns a spot.
McCullum is trying hard to improve his value to the team. This week he worked briefly with Sunil Fernando, the man who coached a shy schoolboy by the name of Muttiah Muralitharan and turned him into the world's most successful wicket-taking bowler.
"There is some technical stuff I'm worried about so it was good to bounce a few ideas," McCullum said of the session organised by coach John Wright. "The biggest thing was momentum towards the target rather than sliding across the crease when I deliver. All I focused on was my action, tinkering things so the ball comes out as I know it can.
"I spoke to Wrighty and he said, 'Murali's coach is over here, do you want to come over and bowl?' I said, 'that's fantastic'."
While McCullum is fine-tuning his game, Woodcock is just hoping to get one. He has been considered the consummate team man since selection. His drinks running as 12th man has been done at a pace resembling Usain Bolt and with enough enthusiasm to earn him the nickname Gasket, as in, blown a.
"I got a bit overcooked and overheated," Woodcock says. "I had to spend the next day in bed, adjusting to the heat."
While only McCullum worked with Fernando, Woodcock was mentored by a couple of coaches Wright set him up with in Chennai.
"I've been trying to tidy up my line and be a bit different each ball," he says. "I don't want to be too predictable. Yet it's important to bowl straighter in the subcontinent. Other places you might get away with width but here you need to accept where you'll be hit in the field, like down the ground, and build your field to it."
Woodcock has been on the periphery since selection and is yet to take a wicket for New Zealand in one-day, Twenty20 or warm-up matches. However, a first XI spot beckons.
"It is disappointing for Dan but potentially gives me a chance at this tournament. I've been chipping away at practices and the odd optional session, doing everything I can.
"I had a warm-up game versus India [he returned figures of 5-0-31-0] so I've had a taste of it. It made me appreciate the support the Indian guys get and how they are followed.
"The noise when Tendulkar and Sehwag were together was immense. My ears were ringing after the first 10 minutes.
"It's a bit different to Alex Moore Park in Johnsonville or even the Basin Reserve when the odd man and his dog turn up.
"Those sorts of guys are also on every second ad. That's another indication of the pressure they're under."
In contrast, bowling a tidy spell against Canada should be easy on Sunday morning.