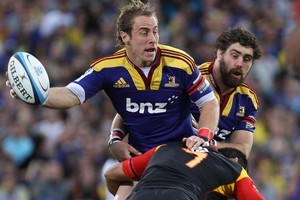 He says he feels refreshed, revitalised by the challenge put before him.
He's been told he has to stand up and deliver, be a core leader to whom others look. And he has to get better. Get better? Is that the sort of talk the All Blacks halfback would expect? What on Earth does Jimmy Cowan think of that?
He doesn't hesitate in his response. "For sure, there is more to come from me. I can still up my game by plenty, maybe up to 20 or 30 per cent more. All the bad stuff is behind me. I am enjoying my rugby and enjoying this group of guys."
It is a measure of Cowan's growing maturity that he has stood up and accepted the demands of new Highlanders coach Jamie Joseph. Years ago, Cowan the hot-head wouldn't have knuckled down, accepted the responsibility and acted accordingly.
But he is a changed man. And no-one knows better than Cowan how fortunate he is to be in his situation.
"I have grown up through the years. You have got to make mistakes to learn and I have certainly made plenty of mistakes along the way. But I have learned from them and I am very thankful.
"I have had a lot of trust put into me and I've also had lots of second chances. I have got rugby to thank for this situation and I am a better person for having had the ups and downs."
So Cowan is among those players in the Highlanders' squad who have answered Jamie Joseph's clarion call for leaders. And he is revelling in the role. It is also clear that he already has a considerable respect for his new coach.
"I feel revitalised because I am enjoying what they [Joseph, Simon Culhane and their team] are bringing to the table. Jamie is a very astute man. He has picked teams with a core group of Southland players and tied it all together.
"He has got a game plan that suits our players, so we are comfortable doing it. And he also changes game plans on the hop. The way we played against the Bulls was quite different to those games against the Hurricanes and Chiefs. So if we can continue that way we will get a lot more wins.
"I see no reason why we can't keep winning pretty regularly. What is good about this set-up is that if we get a win, we certainly enjoy the Saturday night as a group. But we park it very quickly and get back to working the next day for the next game. The work ethic here is tremendous. They are all here as a group and all working hard for their mates. So we will get a lot more wins, I am sure. This should be a good year."
Joseph has recognised that senior guys like Cowan, Adam Thomson, Jamie McIntosh and Tom Donnelly need to stand up as experienced figures, if the Highlanders' franchise is to turn this good start into something significant this season.
Cowan, for one, is certainly prepared to do his bit. "We have got to do that as leaders. We must keep striving week to week, day to day to get better for this team to function, to get to where we want to be.
"That is the message we are getting from the coaches; we have got to stand up and deliver as leaders for this team to be successful. He has put the onus on us to front up and I like that. I have always liked the pressure in rugby; I have always said, the bigger the occasion the better I play and it is no different here. So I have to strive to reach that 20 to 30 per cent improvement I talked about."
Of course, a long season looms ahead but he is considerably encouraged by their start. "Our pre-season was pretty intense, we did a lot of running and our fitness levels were pretty high. Now we are getting the reward for all that. It just shows you, if you work together as one, as a team, you get the rewards. There are no stars in this outfit; we are just all keen to work for one another, doing the best for our mates beside us."
Joseph suggested last week that part of the motivation behind Cowan this season was the memory of last season's failures with the Highlanders, a sense of unfinished business, perhaps. What did Cowan make of that?
"I think if you go back to the last two years, we weren't far off, we were very competitive as a group. The majority of the games we played last year we were certainly still in with 20 minutes to go. But this year we seem to be playing for the full 80 minutes. Maybe one of the reasons for that is that the core leaders in the group are standing up and taking the initiative, the responsibility.
"In previous years we have probably not had leaders who set the trend. Whereas this year, we are standing up and saying 'follow me', and giving performances that help the younger guys to follow."
It is a hugely important year, and Cowan does not shy away from that fact. "A big year for all of us," he says. "There is no hiding from that but you can't look too far ahead. I could fall over this week or next and my season could be over. So I just have to keep doing what I do, look forward to every day, train hard and enjoy the matches.
"The big thing for me at this point in time in my career is to enjoy it. I am 29 now and I have to be enjoying my rugby. If I do that and help the team get good results I just hope I will be there at the end of the year."