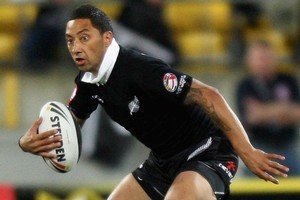 Oh dear. Here we go again. It wouldn't be the NRL without a scandal or two. Or six. Or 11. But who's counting?
And really, what sport doesn't have to deal with a bit of spot fixing, drink-driving and burger bar brawling from time to time?
That expression "it's just not cricket". They should remove the "not". Who wouldn't wager dollars to doughnuts that cricket has more of a gambling problem than league? And what about that New Zealand batsman who loses arguments with dunny doors? Or the bowler with a liberal interpretation of in-flight entertainment? As for the other rugby code, you don't have to look back too far to recall gang-rape allegations, Kiwi-cum-England internationals being locked up in Argentine jails for punching the lights out of people, or players taking the field with blood capsules to help them better fake injuries.
Hell, even bowls has had to deal with a public penis puppetry pep talk (try saying that after a night out with Todd Carney), and Croquet New Zealand is at this moment wrestling with a star player with a booze issue.
And yet, for some reason, league always cops it square in the mouth when things go wrong off the field.
Not that the game helps itself.
Given the ongoing investigation and now daily revelations about the spot-fixing in last season's dead match between the Bulldogs and Cowboys, the last thing league needed was reigning Dally M medallist Carney failing a breath test two weeks before the season.
Given Carney's background, though, having a minuscule amount of alcohol in his bloodstream on the way to an early-morning meeting with his manager is hardly a hanging offence.
Carney clearly hasn't conquered his booze issues, which would put him on a par with a good percentage of the general population. At least he's trying.
As it transpired, Carney's stumble was actually only the second-to-last thing the game needed. That was to come when angelic face of the game Benji Marshall rounded out a week of charity work and helpful reminders about player behaviour by belting someone at a McDonald's a couple of hours before the breakfast menu becomes available.
Marshall's manager was quick to play the get-out-of-jail-free racism card, although its legitimacy has been disputed. Either way, Marshall's biggest crime was putting himself in a risky position in the first place.
So much for a safe pair of hands.
At least Graham Lowe had the thoughtlessness to call a press conference to remind everyone Marshall's alleged misdemeanour was comparatively small beer to the trials - actual trials - faced by his predecessors.
So here we are, another season begins with league having pushed to the extreme the philosophy that there is no such thing as bad publicity.
Let the games begin. Please, let the games begin.