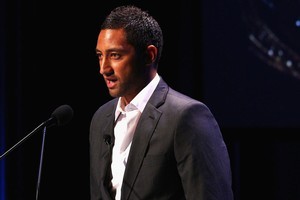 The NRL season kicks off in a blaze of self-destructive publicity - nothing new in that.
But this time AFL has done its best, or worst, to match it.
Who could guess the rival codes were spending tens of millions of dollars to outdo each other in the quest for long-term domination of Australia's football market?
While the AFL has been embarrassed for months by a 17-year-old girl, and the latest sacking of serial headline Brendan Fevola, the NRL season kicks off under the pall of a betting scandal and drink-driving and assault charges against two of its leading players, Todd Carney and Benji Marshall respectively.
Convicted drug dealer Danny Wicks, meanwhile, awaits sentence over the sale of Ecstasy pills while he was a player with the Newcastle Knights.
The truly staggering aspect of league's self-inflicted misery is how its colours are continually lowered by the players it chooses to be its poster boys.
The supposed honour seems to have become a poisoned chalice.
In 2009, it was Brett Stewart, the Manly flier suspended by the NRL for allegedly being drunk at his club's boozy season launch, and charged by police with sexually assaulting a teenage girl later the same day.
The NRL dropped him like a hot potato from its pre-season publicity campaign.
Stewart was eventually cleared of the sexual assault charge.
By season's end, Stewart's replacement as poster boy was in trouble, too.
Greg Inglis, the Melbourne Storm and Queensland Origin star, was charged by police over an incident that reportedly left his girlfriend with a black eye.
Inglis avoided a conviction after admitting to an assault, agreeing to attend a behavioural amendment group and paying A$3000 ($4080) to a women's health group.
Now it's Benji Marshall's turn.
He, too, was selected to be the "face" of league. It seemed like a safe choice, if there is such a thing in league; he was a model on and off the field.
But days after helping to launch the 2011 season, the Wests Tigers captain was charged with assault after allegedly throwing a punch outside a McDonald's restaurant in central Sydney.
The 3.20am hamburger, it seems, is always going to be more problematic than the 3.20pm hamburger.
Marshall's manager says the player was the target of racial abuse.
Other reports claimed Marshall was taunted by comments that Darren Lockyer was a better player.
Either way, someone still ended up with a split lip.
Marshall had spent the previous evening helping to raise A$250,000 for a cancer charity, a generosity of spirit which speaks wonderfully well of him even if it has nothing whatsoever to do with the issue of assault.
Marshall's problems coincidentally served to take the heat off Todd Carney, the reigning Dally M player of the year, who had marked the onset of the 2011 season by being charged with drink-driving. His club fined him A$10,000, which some suggested amounted to a tickle with a feather duster for a A$400,000-a-year player.
Carney, who has admitted he has an alcohol problem, was sacked by Canberra in 2008 and deregistered by the NRL in 2009.
League boss David Gallop said Carney had "dodged a bullet" and that one more indiscretion would spell the end of his career.
Others were not so understanding, notably Manly coach Des Hasler, who recalled the suspension the league slapped on Stewart two years ago.
All of this would be bad enough in isolation, but this week's NRL kick-off comes after police laid more charges over an alleged exotic bet scam gone wrong in last year's Canterbury-North Queensland match in Townsville.
With Bulldogs player Ryan Tandy already facing up to five years in jail if convicted of giving false evidence to a police inquiry, further charges have now been laid against prominent player agent Sam Ayoub and former player John Elias.
David Gallop described this as a "seriously alarming development".
"These issues are at the most serious end of the integrity of the game," he said.
League's great rival AFL, meanwhile, has been twisting itself in knots all summer over a teenage girl.
Kim Duthie first published naked photos of St Kilda AFL players Nick Riewoldt and Nick Dal Santo on the internet.
Then she claimed she had been pregnant with twins to St Kilda player Sam Gilbert, saying one twin miscarried and the other was stillborn.
But in an interview that reportedly earned the teenager a five-figure sum, she told Channel Nine's 60 Minutes programme last Sunday she had lied about the pregnancy and owed Gilbert an apology.
The teenager has also claimed she had a sexual relationship with player manager Ricky Nixon, which he has strongly denied, though he has stepped down.
The first bounce and kick of 2011 can't come soon enough for administrators in both the AFL and NRL, not to mention fans suffering football's latest debilitating ailment, atrocity fatigue.
- AAP