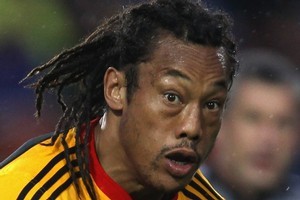 SUPER 15 WEEK FOUR
Bye: Bulls, Reds, Waratahs
CRUSADERS v BRUMBIES
Nelson, tonight 7.35pm
Referee: Garratt Williamson
TIPS:
Mike Greenaway: Crusaders
Dylan Cleaver: Crusaders
Andrew Slack: Crusaders
Rachel Glucina: Crusaders
Wynne Gray: Crusaders
THE MATCH: It will be hard for the Crusaders to summon up the same emotional fervour for this match as they did against the Waratahs, but that won't necessarily be a bad thing. The Crusaders won that match by playing out of their skins for 20 minutes, bookending that period with, by their standards, some fairly haphazard rugby.
WATCH OUT FOR: A big score. The Brumbies look a dispirited mob of malcontents while the Crusaders' patchy win against a good Waratahs side hinted at much better things to come. It is scary to think that this dominating loose forward trio of George Whitelock, Matt Todd and Kieran Read is only going to get better soon with the return of Richie McCaw.
TAB Crusaders $1.14 Brumbies $5
REBELS v SHARKS
Melbourne, tonight 9.40pm
Referee: Chris Pollock
TIPS:
Mike Greenaway: Sharks
Dylan Cleaver: Sharks
Andrew Slack: Sharks
Rachel Glucina: Sharks
Wynne Gray: Sharks
THE MATCH: The Sharks should find even less trouble disposing of the Rebels than they did the 14-man (at one stage 13-man) Force. You can count on the Rebels being better in Melbourne than in Hamilton but they have such a dearth of talent it is difficult to imagine they can upset the Sharks.
WATCH OUT FOR: Rod Macqueen's patience to start wearing thin. You don't become a World Cup-winning coach by luck (unless, perhaps, you're Kitch Christie). It takes some serious strategic planning, which is why Macqueen and a new franchise should be a good fit. Whether Danny Cipriani is as good a fit is doubtful. He has some talent, but has yet to get anywhere near the same wavelength as his outsides.
TAB Rebels $3.75 Sharks $1.25
STORMERS v HIGHLANDERS
Cape Town, tomorrow 6.10am
Referee: Steve White
TIPS:
Mike Greenaway: Stormers
Dylan Cleaver: Stormers
Andrew Slack: Stormers
Rachel Glucina: Highlanders
Wynne Gray: Stormers
THE MATCH: You have to figure the clock is going to strike midnight soon, but there's no reason why the Highlanders can't sneak in one last dance. The Stormers, beaten finalists last year, have been unconvincing winners against the fleaweight Lions and Cheetahs, while the Highlanders were at times excellent against the Bulls.
WATCH OUT FOR: A certain tag with the initials FABC to be placed on Jamie Joseph's back if he continues to work miracles. In the past nine months he has taken two seriously underpowered teams - the Maori and the Highlanders - and at the moment stands at six from six. Why wouldn't he be as effective with the best 22-odd players in the country?
TAB Stormers $1.47 Highlanders $2.55
HURRICANES v CHIEFS
Wellington, tomorrow 7.35pm
Referee: Marius Jonker
TIPS:
Mike Greenaway: Hurricanes
Dylan Cleaver: Hurricanes
Andrew Slack: Hurricanes
Rachel Glucina: Hurricanes
Wynne Gray: Hurricanes
THE MATCH: Big implications for both teams. The Hurricanes need to prove they are better than the team that fell limply to the Highlanders in round one, a result that no longer seems so ludicrous. The Chiefs need to demonstrate they can beat good teams as well as bad. It's not a given that the Hurricanes fall into the former category, but they can't be any worse than the Rebels.
WATCH OUT FOR: The outside backs. There are some tasty duels in prospect. Tim Nanai-Williams v Cory Jane; Sitiveni Sivivatu v Julian Savea; Lelia Masaga v Hosea Gear. There's some serious talent and counter-attacking ability there. Kick at your own peril.
TAB Hurricanes $1.62 Chiefs $2.20
FORCE v BLUES
Perth, Sunday 12.05am
Referee: Nathan Pearce
TIPS:
Mike Greenaway: Blues
Dylan Cleaver: Blues
Andrew Slack: Blues
Rachel Glucina: Blues
Wynne Gray: Blues
THE MATCH: It would be just like the Blues to turn around from a patchy, but nevertheless important, victory in the Republic and turn on a shocker in Perth. Hard to see it happening though. The Force were a far better side in 2009, the last time they met on Australia's east coast, and the Blues were not as good as they are this year, yet the visitors still won 25-19.
WATCH OUT FOR: Rene Ranger. Why? Because it's fun. Is there another nation on this planet who would consider not picking a talent like this for their World Cup squad? Game plans should be simple: give him the ball and get out of the way.
TAB Force $3.75 Blues $1.25
CHEETAHS v LIONS
Bloemfontein, Sunday 4.05am
Referee: Keith Brown
TIPS:
Mike Greenaway: Lions
Dylan Cleaver: Cheetahs
Andrew Slack: Cheetahs
Rachel Glucina: Cheetahs
Wynne Gray: Cheetahs
THE MATCH: A cracker to end the round. A real doozy. Two sides who historically have been difficult to separate. Hold on to your homburgs, anything could happen in Bloemfontein.
WATCH OUT FOR: Who are we kidding, nobody's going to be watching out for anything here. The committed - we're talking committed to an institution rather than a cause - might be tempted to witness the first win of the Johnny Mitchell era. But nothing's guaranteed - even the oddsmakers can't split them.
TAB Cheetahs $1.87 Lions $1.87