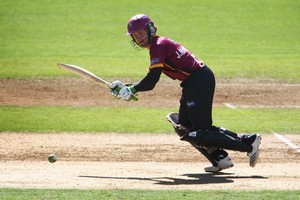 Northern Districts will be in chase mode when the Plunket Shield resumes after an eight-day break today.
They sit eight points adrift of leaders Central Districts and are chasing maximum points at Whangarei's Cobham Oval today, but they remain optimistic.
There are 40 points still on offer for each team so time is not an issue right now for ND.
"We've been a little bit patchy in some games, but nailing it in others," captain James Marshall said yesterday.
"We need to be more consistent when the opportunities arise if we want to win this competition. That's why this is such a hard competition to win because every day you've got to turn up and play good cricket or you start getting left behind."
ND's attack will be led by the indefatigable Graeme Aldridge, whose 24 wickets at 19.04 follow last season's outstanding 42 at 23.04 as ND marched to the title.
Only Otago's lively left armer Neil Wagner, with 34 at 17.05 betters the 33-year-old Aldridge in the shield this season and Marshall is well aware of his value to the campaign.
The best seamer going around in domestic cricket not to have won a national cap? It's a line Marshall's often heard from opponents.
"He's the backbone of our attack and it's not just in the four-day games," he said.
"When you get a bowler who can turn up and keep delivering it's pretty handy," Marshall said. "He's definitely proven he's got the numbers behind him to have earned a call-up."
Fast-medium bowler Mark Gillespie will play his 50th first-class game for Wellington, for whom he has taken 199 first-class wickets.
Bottom-placed Auckland will help christen the reopened University Oval in Dunedin today.
The ground has had extensive work done on drainage and increasing the size of the outfield.
Opener Tim McIntosh is still unable to resume after damaging a big toe in the one-day semifinal against Otago on February 9, but Andre Adams travelled south with the squad and has a fitness test on a thigh injury today.
Warren McSkimming comes in for James McMillan in a seam bowling change and the expectation is that it will be a "bowl first" situation for the captains at the toss.
"It looks like it has a good even covering of grass but there's a lot of uncertainty," Otago coach Mike Hesson said.
Canterbury host leaders Central Districts in Rangiora, but will be without their outstanding player of the season, allrounder Rob Nicol.
Canterbury officials are keeping quiet on the reasons, but it is understood former Auckland player Nicol is reluctant to return to Christchurch after the earthquake.
T20 international Dean Brownlie is back after breaking a finger, while speedster Richard Sherlock plays his first first-class game of the season.
CD have made one change, Carl Cachopa replacing the injured Bevan Small. The leaders are also without three leading bowlers, Doug Bracewell, Mitchell McClenaghan and Adam Milne through injury.
Points after five rounds: CD 26, ND 18, Canterbury 15, Otago 14, Wellington 13, Auckland 2.
THE TEAMS
Plunket Shield, sixth round, all start 10.30am today
Otago v Auckland, University Oval
Otago: Craig Cumming (c), Mark Bracewell, Shaun Haig, Neil Broom, Darren Broom, Derek de Boorder, Ian Butler, Mark Craig, Nick Beard, Warren McSkimming, Anthony Bullick, Neil Wagner.
Auckland: Gareth Hopkins (c), Jeet Raval, Greg Todd, Anaru Kitchen, Andrew de Boorder, Colin de Grandhomme, Jimmy Neesham, Brad Cachopa, Daryl Tuffey, Andre Adams, Bruce Martin, Michael Bates, Chris Martin.
Northern Districts v Wellington, Whangarei
ND: James Marshall (c), Brad Wilson, BJ Watling, Daniel Flynn, Hamish Marshall, Peter McGlashan, Trent Boult, Jono Boult, Jason Donnelly, Graeme Aldridge, Brent Arnel, Andrew Mathieson.
Wellington: Grant Elliott (c), Josh Brodie, Stephen Murdoch, Neal Parlane, Michael Pollard, Stewart Rhodes, Joe Austin Smellie, Jeetan Patel, Mark Gillespie, Andrew Lamb, Andy McKay, Malaesaili Tugaga.
Canterbury v Central Districts, Rangiora
Canterbury: Peter Fulton (c), Michael Papps, Dean Brownlie, Shanan Stewart, Reece Young, Andrew Ellis, Tom Latham, Todd Astle, Ryan McCone, Carl Frauenstein, Willie Londsale, Richard Sherlock.
CD: Kruger van Wyk (c), Peter Ingram, George Worker, Carl Cachopa, Brad Patton, Mathew Sinclair, Tim Weston, Kieran Noema-Barnett, Tarun Nethula, Jeremy Kuru, Michael Mason, Ben Wheeler.