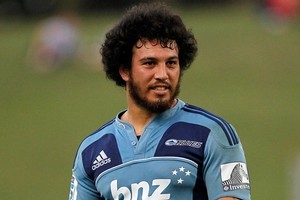 There's nothing too conventional about Rene Ranger and his rugby.
He can play midfield, perhaps fullback but sides like the Blues have generally chosen him on the wing and given him a bit of a roving licence.
The 24-year-old can thrill and last year graduated to the test arena to play three games for the All Blacks.
He is a mix of brick-hard muscle, agility, invention and unflinching nerve - attributes which have not always attached themselves to wings.
He makes mistakes. He's bound to, because he is always looking to attack and sometimes gets a shade reckless. Opponents see him as red-flag danger.
The Blues have used him on the wing, but for Saturday's match, Ranger was on the bench against the Lions. Not that he was in poor company with captain Keven Mealamu, All Black lock Anthony Boric and flanker Daniel Braid riding the pine alongside him.
Coach Pat Lam's idea was to get some impact from that group when he thrust them into the fray at Ellis Park. Talk about theories hitting the money.
It took Ranger just three minutes to cross the chalk when he replaced Sherwin Stowers after halftime and then four minutes later he was in again after beating three defenders. The Blues were back in front.
But Lam was slightly muted about Ranger's contribution, intimating he was just doing his job.
"In space he does it well," he added. "His offloads were a bit ropey but he is dangerous."
Ranger was not content to work at one end of Ellis Park as he showed in the final move of the match when he smashed James Kimana in a tackle over the line causing the former Waikato wing to lose the ball.
Ranger is no sleek speedster like Doug Howlett, he does not have the hot-stepping, lithe style of Sitiveni Sivivatu or the purring grunt of Hosea Gear.
He's more of a cross between the power of John Kirwan and the muscular invention of Tana Umaga, not in the same league as those two champions but he has that sort of dimension about his play.
Ranger won his test caps last season after some rousing Super rugby form. He could not oust Joe Rokocoko and Cory Jane regularly and dipped out to Gear for the end-of-year tour.
Even when Sivivatu could not take his touring place, there was no selection reprieve for Ranger. It will be fascinating to watch his response and that of the national selectors in this year's Super 15.