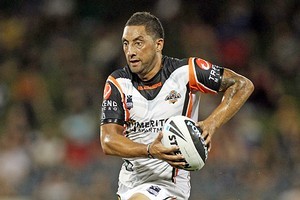 At 26, West Tigers and New Zealand superstar Benji Marshall has achieved everything in rugby league.
Premiership winner at 21, World Cup winner at 23, captain of his country and voted the world's best player at 25.
However, the loss of his father Michael to cancer in 2009, presented Marshall with a new challenge, and one he believes is more important than anything he has achieved on the football field - helping children crippled with the disease that claimed his dad's life.
"Just before my father passed away, he asked me to do a couple of things for him, one of them was to use my profile better while I am playing the game," Marshall told AAP.
"We have had a couple of cancer problems in our family, and a couple of them were with the kids, so I just had to get involved with the Children's Cancer Institute.
"When you get someone diagnosed with cancer who is older you accept it a bit better, but when you see it happen to kids it's so hard because they have had no life yet all.
"I have been out to Westmead and Randwick hospitals in Sydney and see how tough these kids are doing it, it puts everything I have achieved in football into perspective and re-affirms that it is really only a game."
Marshall recalled one particular trip to Westmead Children's Hospital where he met some cancer-affected children that moved him to tears and convinced him he had to do something to help.
However, what amazed him most was how the presence of the Tigers players could lift the spirit of the children they met.
The parents of five-year-old Lleyton Giles, who has spent most of his young life in hospital after being born with liver, bowel and lung problems, revealed last year how their son showed amazing signs of progress after being carried around Campbelltown Stadium on Marshall's shoulders following a win over Penrith.
Giles was also given a guard of honour as he walked into the sheds.
"If I can put a smile on a couple of children's faces then I feel I am doing my job," he said.
"If I can use my name to help raise some money and to ultimately find a cure, but help make their lives a bit easier then why shouldn't I do it?"
Marshall was unveiled as the new ambassador for Children's Cancer Institute Australia at a star-studded gathering held at a top Sydney hotel on Friday, just two days after launching the 2011 NRL season.
It caps his transformation from flamboyant playmaker with outrageous talent to statesman of the game.
Marshall admits he is proud, but slightly embarrassed by the tag 'face of the NRL'.
However, he believes leadership has improved him as a player and a West Tigers team full of strong personalities such as skipper Robbie Farah, Beau Ryan and Lote Tuqiri, are on course to repeat their 2005 grand final triumph against North Queensland.
"I believe as a team we are coming to our peak, myself, Robbie, Liam Fulton were just starting out when we won in 2005 and looked up to the players like Mark O'Neill and John Skandalis," he said.
"We are now the senior members of the team and the young guns like Timmy Moltzen, Robert Lui and Blake Ayshford are looking up to players like me and I feel it is my responsibility to look out for them like senior players did for me when I was their age.
"I know every team believes at the start of the season that they can win the comp, but we do feel going into the season that we are very strong and the experience we gained last year in getting to the finals will make us better this time around."
- AAP