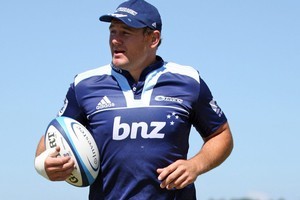 Auckland's renewed attempts to take greater control of the Blues have found paydirt with Northland and warm responses from North Harbour.
Northland like a proposal for an annual six-figure payout and dividends in exchange for being a feeder province for the Super 15 franchise.
Auckland have a 55 per cent stake in the Blues, Harbour 25 per cent and Northland 20 per cent. Blues regulars Anthony Boric, Luke McAlister and Tony Woodcock are Harbour players.
A rejigged deal would alleviate some of Auckland's concerns and give them greater authority.
"We are working through some ideas to give Northland rugby some certainty for this year and the future and we welcome that certainty which we think the Blues can give us," Northland chairman Andrew Golightly said.
However Harbour, while acknowledging the need for more inter-franchise collaboration, are wary about ceding their political and administrative influence.
"We are fully committed and I sense there is a new spirit within the region, an opportunity for a new start," Harbour chairman John Morgan said. "Our connection as a union with professional rugby is very real and even closer. We have a lot of interaction with Auckland and want an even greater alignment."
The New Zealand Rugby Union has been urging the Super franchises to take on greater direction and financial responsibility.
"Auckland has a strong balance sheet and we can offer our provincial partners a way forward," Auckland chairman Glenn Wahlstrom said.
The province had $7 million in cash reserves.
"This is not a case of Auckland being the Blues. It is a way of offering financial security to Harbour and Northland while they remain joint venture partners."
It would boost high performance systems and club rugby as well. That collaboration would help in finance, facilities and playing numbers.
It was true Harbour and Northland, said Wahlstrom, would make concessions on their shares in the Blues and perhaps on the board.
"We have been negotiating hard since Christmas between the three provincial chairmen," Wahlstrom said. "We want to harness some energy in the Blues where we have new people, new thinking and we want to take this issue by the scruff of the neck."
Northland chairman Golightly said the scheme was a way of freeing his union from their debt as rugby faced ongoing financial crises.
Harbour stalwarts acknowledge the short-term financial assistance but are concerned about ending up as another feeder province.
The Blues started out as New Zealand's most successful franchise, annexing the first two titles under Graham Henry. They won a third title under Peter Sloane in 2003.