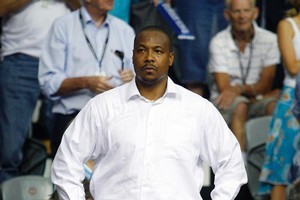 The Breakers will either go a long way to sealing the ANBL minor premiership tomorrow night - or find themselves with a long way still to go to achieve the milestone.
Back-to-back losses may not have dented the Kiwi club's standing atop the ANBL ladder, but the reverses to the Blaze and Hawks have opened the door for second-placed Townsville Crocodiles ahead of a two-match series that begins in Auckland tomorrow.
While the Breakers would have to stumble mightily not to pick up the wins they need over the final five regular season matches to claim top spot, another setback against the Crocs could see matters taken down to the wire.
The 18-5 Breakers still have a four-game lead over the Crocs (14-8), and a win tomorrow night would put them on the verge of claiming the minor premiership. A loss, however, would hand the season series - and with it a crucial tiebreaker - to a Crocs side that would then have the chance to make further inroads in the return match in Townsville on March 12.
With the Breakers' drawn against the bottom three clubs in their final three matches, including home matches against Sydney and Adelaide, even a double defeat by the Crocs would likely not prove disastrous.
What it would do, however, is confirm a suspicion growing throughout the league that the Breakers have become increasingly beatable.
"What they are suffering from now is what any sporting team would suffer from," Gold Coast coach Joey Wright said after his side inflicted just a second home loss of the season on the Breakers last week. "They have dominated all year."
While he believed the front-running Kiwi club was struggling to match the intensity of teams desperate to make the playoff cut, Wright balanced that view with the assertion that the Breakers were "still far and away the best team in the league".
Although he conceded his side failed to match the Blaze's desperation and urgency, Breakers coach Andrej Lemanis certainly was not reaching for the panic button after last Wednesday's defeat.
"I don't think our standards have slipped," Lemanis said.
"We've just won eight games in a row. That's not too bad."
That, however, was before the Breakers were belted 104-81 by Wollongong on Sunday night. Another result like that tomorrow and things may not seem quite as rosy.