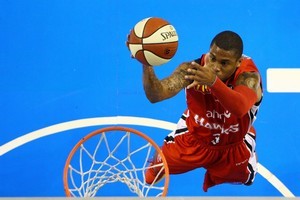 The New Zealand Breakers have hit another speed bump on the road towards the Australian National Basketball League playoffs.
The league leaders suffered a surprise 81-104 loss away to the Wollongong Hawks tonight, the reverse representing their second successive defeat and reducing their campaign record to 18 wins and five losses.
Although the Breakers are assured of the minor premiership and a playoffs spot coach Andrej Lemanis does not have to look far to identify problem areas that must be sorted ahead of the post-season series.
They were well below their best tonight, a sloppy offence being compounded by a leaking defence and high turnover rate as they trailed 45-56 at halftime.
With American shooting guard Gary Ervin having already bucketed 18 points towards his eventual match haul of 25, the Hawks were a team on a mission as they knew victory was necessary for the sixth-placed franchise to maintain their playoffs ambitions.
Many may have expected the Breakers to hit back strongly after the main break, but instead the Hawks went on a 7-0 run early in the third quarter to extend their advantage to 16 points at 63-47.
They held steady until the end of that quarter when their lead was a healthy 73-59 with the Breakers still out of sorts and showing few signs that a come from behind win was in prospect.
Earlier, the Breakers were simply awful in a first half dominated by Wollongong.
The visitors were out shot, out hustled and out thought and the Hawks could count themselves unlucky not to lead by more than 11 points.
The Breakers shot at an abysmal 37 per cent from the floor in the opening two quarters, a return of 15 from 41 easily bettered by Wollongong who converted 22 of 41 attempts during the same time frame.
The statistics barely improved for the remainder of the match.
Quality guard Kirk Penney was the Breakers' best on the score sheet with 25 points while Gary Wilkinson at times made his presence felt to contribute 16 and Mika Vukona hauled in 13 rebounds to complement his 10 points.
Ervin was a constant menace for the Hawks, and he had crucial support from former Breaker Oscar Forman who ended with 22 points while Mat Campbell chipped in with 17, in the process lifting his career haul of three-pointers to 999.
- NZPA