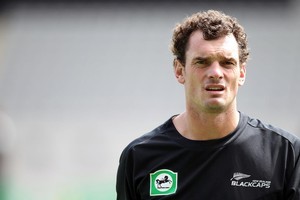 Kyle Mills is one frustrated New Zealand cricketer.
Firstly, he cannot believe his poor luck; in a 10-year international career he has played just one World Cup match. His 31-year-old body has constantly suffered minor niggles or required surgery.
Secondly, as a victim of this summer's rotation policy, he cannot earn a permanent spot in the team, despite his vast experience.
Thirdly, he cannot stand talking about winning at meetings while waiting days - and in the current case a week - to put those words into action.
Mills' World Cup experience consists of bowling six overs for 32 against Bangladesh in South Africa almost eight years ago.
A knee injury ended his chances in 2007 and he faces a battle on the form and injury front to make the first XI this time, despite ranking in the world's top 20 one-day bowlers since September 2005.
Tim Southee and Hamish Bennett were picked ahead of Mills for the first two ODIs at home against Pakistan.
Coach John Wright and captain Daniel Vettori opted against using him against Australia in Friday's loss in Nagpur, despite admitting he had returned to fitness after a bulging disc in his back ruled him out of the Kenya win.
With the benefit of hindsight, the Bennett/Southee selection hunch failed.
Statistics indicate Mills could have been useful. He averages 17.57 in three matches on the subcontinent against Australia, compared to his career average of 26.47 in 126 ODIs.
Bennett was making his debut against the Aussies and Southee's average against Australia of 55.5 is far inferior to Mills' 31.55.
Mills is too much of a team man to vent anger outside the team bubble, but an element of frustration wafts through.
"My first real bowl was the day before the [Australia] game and I felt reasonably good. The [tour] selectors decided to go with the team they did and that's just the way it is.
"I bowled five or six overs after the game on the match wicket and felt pretty good."
Wright has said Mills will be picked against Zimbabwe on Friday night, provided his fitness holds.
Fortunately it is not too late in the tournament for his inclusion. The forgiving format should guarantee New Zealand a quarter-final spot.
It has all been part of Mills' exasperating summer.
"I was extremely disappointed not to play in those first two games against Pakistan. I felt my form on the three winter tours to the subcontinent was good; I was the leading wicket-taker.
"To be left out was a massive dent to my confidence."
Mills acknowledges it is unfortunate they have a week to mull over the loss to Australia and prepare for Zimbabwe.
He is wary of conducting too many meetings and having the team vulnerable to cabin fever in the glut of downtime.
"We'll have plenty of time to talk about what went wrong and try to find answers. But there was a period in Bangladesh and Sri Lanka [last year] where we probably talked too much.
"It really comes down to hard work. That's the only answer I can come up with."