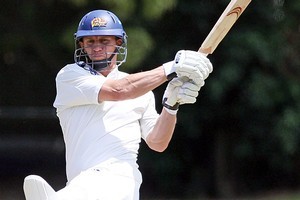 Otago made all the running en route to a fully deserved victory over Plunket Shield cricket leaders Central Districts today.
Otago picked up maximum points by winning by a margin of 117 runs after a series of horse trading deals produced the result they wanted on the fourth and final afternoon of the fifth round fixture at Napier's McLean Park.
Victorious captain Craig Cumming had cause to commiserate with his Central counterpart Kruger van Wyk after both leaders did their best to manufacture a result when the match seemed destined for a tame draw as the sides arrived at the ground this morning keen to make up for time lost due to rain earlier in the encounter.
Van Wyk made the first move by declaring his side's first innings at their overnight 156 for five, leaving them 319 runs in arrears of Otago's opening effort of 475 for five declared.
Cumming then returned the favour by pulling the pin on his side's second innings at 71 for one after nine entertaining overs, but not before 20-year-old Michael Bracewell belted an unbeaten 34 off 21 balls.
That left Central requiring 391 from 96 overs at a rate of 4.07 an over, a sporting challenge bearing in mind McLean Park's longstanding reputation for favouring the batsmen.
But once opener George Worker fell just two runs short of a deserved century with his side at 188 for three Central's chances of pulling off an unlikely victory as good as evaporated.
Worker's 98 contained 15 fours and a lone six from 218 minutes of diligent work after Peter Ingram and Brad Patton both made starts but failed to kick on.
It was then left to former international Mathew Sinclair to dig his side out of trouble and he did stick around for 147 minutes in compiling 59 before debutant offspinner Mark Craig found the edge of his usually broad bat.
That left Otago requiring three wickets in 18 overs against the Central tail and 22-year-old Craig edged them closer to victory when he had Michael Mason caught at minimal cost.
The last 10 overs began with Central eight down and a new spell from left-arm fast bowler Neil Wagner was almost immediately successful as he snared his fourth victim before Nick Beard sealed the deal by trapping Ben Wheeler leg before wicket for 13.
Wagner finished with four for 92 and Craig three for 87 off 27 overs, but each member of the visitors' attack was tidy at worst as only one extra, a leg bye, was conceded in the entire innings.
Otago
First innings 475-7 dec
Central Districts
First innings (overnight 156-5 dec)
Otago
Second innings
M Bracewell not out 34
S Haig c van Wyk b Small 11
N Broom not out 20
Extras (1lb, 5w) 6
Total (for 1 wkt dec, 9 overs) 71
Fall: 35.
Bowling: B Wheeler 2-0-15-0, J Kuru 4-0-36-0 (1w), B Small 3-0-19-1.
Central Districts
Second innings
P Ingram c de Boorder b Butler 22
G Worker c sub b Butler 98
B Patton c and b Wagner 37
M Sinclair c de Boorder b Craig 59
T Weston c Haig b Wagner 10
K Noema-Barnett c and b Wagner 9
K van Wyk c sub b Craig 1
B Wheeler lbw b beard 13
M Mason c Wagner b Craig 4
B Small c sub b Wagner 20
J Kuru not out 0
Extras (1lb) 1
Total (91.1 overs) 274
Fall: 54, 133, 188, 207, 225, 228, 239, 243, 268, 274.
Bowling: N Wagner 24-6-92-4, J McMillan 5-0-17-0, N Beard 25.1-8-38-1, I Butler 10-0-39-2, M Craig
Result: Otago won by 117 runs.
- NZPA