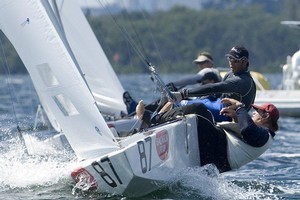 Olympic and America's Cup veterans Hamish Pepper and Craig Monk have confirmed they want to compete in Star class at the 2012 London Games.
The pair will pick up a new boat from Miami in the next fortnight. It will eventually be sailed at the world championships off the coast of Fremantle, Western Australia in December.
It will be their first opportunity to qualify the boat - but not themselves - for the Olympics. They need a top-11 finish to guarantee a spot in the starting fleet of 16, otherwise they will contest the remaining berths next year.
Monk, 43, has competed at two Olympics, winning bronze in the Finn class in 1992.
Pepper, 39, has been to three Olympics, finishing seventh and tenth in the Laser and adding a ninth with Star crewmate Carl Williams at Beijing. Pepper and Williams won the Star world championships in 2006.
Pepper and Monk finished second when they first competed together in 2009. They missed the world championships off Rio de Janeiro last year due to steep logistical costs.
Pepper is in Sydney preparing for the Farr-40 world championships. He says generous sponsors are needed to make the Olympics.
"A new boat costs $100,000; new sails at each major regatta which are upwards of $8500; you then need to cover flights, accommodation and transport. Getting our new boat from Miami to England will cost somewhere between $6000 and $7000."
Pepper says his last campaign over two and a half years with Williams cost around $1.2 million; roughly one third was paid by Sparc, one third from a private American backer and the other third he funded. He says it used to be easier: "Typically I was single, focused and could spend all the money I earned. It is harder now with my wife [Annabel] and two young children [Saxon and Sybella]."
Mounting a Star keelboat campaign is a labour of love. This year is the centenary of the Star's design and it has been at the Olympic Games since 1932 in Los Angeles. New Zealand has won one medal in the class: silver to Rod Davis and Don Cowie in 1992 at Barcelona.
Pepper could be called the campaign manager while Monk is still employed by the Swedish-based team Artemis, a 2013 America's Cup entrant.
"With Craig involved in the Cup one of us needs to do the logistical work. This year we're planning regattas around Weymouth [Olympics venue]; there will also be a chance for a decent training block. Once we pick up and test our new boat we start the Bacardi Cup in Miami [March 7-12]. That should keep enough milk and bread on the table for now."
Monk is sailing four-man catamarans in Oman for Red Bull before he joins Pepper in Miami. His main employer Artemis and other regular America's Cup syndicates Team New Zealand and Alinghi are also involved. He has spent two of the past four months in the Middle East after the Sultan decided sailing should be the country's national sport.
He loves the sunny, hot weather but laments the lack of beer in the Islamic nation.
Coincidentally, Monk has lost around 15kg since November as he moves away from his days grinding on America's Cup boats. He is close to under 100kg for the first time in years by doing 90 minutes of cardiovascular work a day and staying off weights to cope with the demands for greater agility on the America's Cup catamarans.
"I'm relishing the chance to get back to general sailing rather than focusing on one role [like grinding]. I started doing that on the old America's Cup monohulls because in 1993 [ahead of the regatta in San Diego] it was the only spot left on Team New Zealand.
"All I did was stand there and grunt away, turning handles."
The pair are moving together as a team but going in opposite directions on the scales.
"I'm on weight gain," Pepper says, at 87kg. "I'm trying to reach 93kg but don't want to do it through pies and milkshakes so I'm throwing a few weights around."
The two grew up at the Murrays Bay sailing club so when Pepper's former partner, Williams, moved to head the Pure Black Racing cycling team, he hooked up with Monk.
"As a former Olympic medallist and America's Cup grinder, his skills are underrated. He's quiet and goes about his business but he instantly picked up a feel for the boat."
Monk's Artemis team-mates, Paul Cayard and former Team New Zealand tactician Terry Hutchinson, were former Olympic Star sailors.
"I'm lucky they are fully supportive of my Olympic campaign. I believe I can do both things well.
"Agility, sailing skills, goal-setting and winning are all transferable skills."
APPROXIMATE STAR SET UP COSTS
* 1 x new boat $100,000
* 2 x mainsails $7000
* 2 x jibs $2600
* 1 x transport Auckland-Miami $8000-$10,000
* 1 x transport Miami-Weymouth $6000-$7000