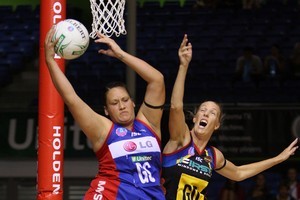 To the Waikato/Bay of Plenty Magic went the spoils, along with the maintenance of a 100 per cent record against the Northern Mystics in a cracking contest at the Trusts Stadium last night.
It was a rousing, full-blooded ANZ Championship game played at a hectic pace. Cool heads were needed and when it counted most the Magic had more of them.
However, it was not until the last 10 minutes that last year's beaten finalists eased clear and had enough of a cushion to get the job done.
"It was a great game, very hard physically," Magic captain Laura Langman said. "You love having games like this because you can learn so much from them."
Her fellow Silver Fern, opposing centre and rival captain Temepara George, wasn't happy with some of the fourth-quarter umpiring calls at their attacking end, but insisted the Mystics are on track for a strong campaign.
"I think we're right there. We have a great team and bench so I still think there's a huge amount of positives from that," she said.
How close was it? At quarter-time it was 11-all; at halftime 23-all. It would have been 34-all at three-quarter time had Jamilah Gupwell not nailed a long-range shot for the Magic seconds from the whistle.
The Mystics went in wondering if this was their best chance to break their duck against the Magic, who had won all six previous meetings.
Perhaps more importantly it was an opportunity for the championship's serial under-achievers to present their credentials as genuine title contenders this year. They had won their first two games and sat top of the ladder.
These are early days in the competition. Tougher challenges lie ahead - although, certainly among the New Zealand quintet, perhaps not many - but there were solid points to be made for both teams.
The Magic are old hands at the winning of tight contests. They have been New Zealand's standard-bearers, but this turned into a decent test of their ability to get across the line under serious pressure.
Given the backdrop, it was no surprise the start was frantic. Both teams wore black armbands in recognition of the Christchurch earthquake tragedy, and the game was preceded by a minute's silence.
Both Mystics shooters, Cathrine Latu and Maria Tutaia, missed shots early. Indeed Tutaia had as much luck under the hoop in the first quarter as a drunk trying to step into a canoe.
She had four from 10 successful shots in that period, and finished with a disappointing 17 from 27. Latu nailed 22 of 27; while Irene van Dyk went at 88 per cent for the Magic.
The Mystics defence, with Silver Fern Anna Scarlett and Rachel Rasmussen, worked overtime in the first half.
Scarlett at goal defence, put her telescopic arms to good use, twice depriving van Dyk of possession in the circle with spectacular blocks, and generally being a pain in the Magic's butt.
Indeed, it was not until 5min 37sec were left in the first of the 15-minute quarters that van Dyk had her first shot.
The introduction of little Gupwell at quarter time helped with the Magic's fluidity approaching the circle.
Bodies were banging hard from the start, a constant theme through the hour. Frances Solia bounced off two Mystics defenders like a pinball; Scarlett and van Dyk had a brief wrestle for the ball.
There were mini battles all round the court on a bruising but hugely entertaining night.