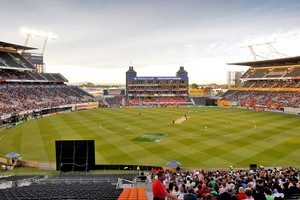 There are genuine fears that the Crusaders will have to find a new home for the remainder of Super Rugby season.
Liquefaction has caused major damage to the playing surface with bubbles of up to half a metre high surfacing all over the AMI Stadium playing field, Newstalk ZB reports.
Reports are that the ground looks more like a ski field than that used for rugby. The ground itself is in lock down, meaning it cannot be thoroughly assessed.
Crusaders chief executive Hamish Riach revealed earlier today that one of their board members has been killed in the disaster.
Riach says they've now got to decide whether to go ahead with Saturday's Super Rugby match against the Hurricanes in Wellington.
The Crusaders are due to play their first home game of the season against the Waratahs on March 4.
However it's understood it could take at least five and a half months before it's capable of hosting a game of rugby.
AMI Stadium is scheduled to host five pool matches and two quarterfinals during the Rugby World Cup which kicks off less than 200 days away.
- NEWSTALK ZB