Chris Rattue writes that Bakkies Botha got a nine-week ban for a terrible assault on Jimmy Cowan - Ma'a Nonu got one.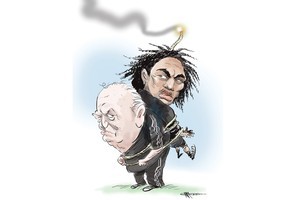 How sweet. All Black teammates Ma'a Nonu and Jimmy Cowan's love-in may have worked a trick at the rugby judiciary but it's done nothing to remove the image that our rugby rivalries are merely spats between branch offices of the New Zealand Rugby Union.
Nonu knew the score, virtually admitting he got off lightly when Nigel Hampton, QC, gave him a one-week suspension for what amounted to a flying head-butt on Cowan, who reportedly asked that Nonu be treated leniently.
This case of victim providing support is where the independence and credibility of Sanzar and its judicial system takes a flying hit.
Cowan wasn't so quick to put pen to paper after Bakkies Botha head-butted the prone All Black halfback during a test.
Botha was bagged by the All Blacks and copped a nine-week ban, with coach Graham Henry claiming the notorious Springbok lock deserved a longer suspension considering his violent history. The rugby judiciary might declare "no correspondence will be entered into" in the name of increased legitimacy for the semi-global competition rather than have justice skewed by patriotic considerations.
Hampton pointed to the Cowan letter as a mitigating factor in handing out the sentence.
In other words, when the acts of violence are a case of mate-on-mate, you've got a better chance of getting a lighter sentence.
And what about Nonu's history?
This is a bloke with an awful record - one of lots of fire and a disconcerting amount of smoke - who has escaped any meaningful punishment, deterrent or admonishment.
This was his third dangerous tackle conviction in the Super competition and he was exonerated on a further charge.
In the test arena, his record includes a lifting "spear" tackle on Ireland's Gordon D'Arcy that went virtually unpunished (although Henry said such tackles needed to be eradicated) and a flying, marginally late, no-arms charge on Wales' Gavin Henson that brought a yellow card. He also put a late, head-to-head hit on Frenchman Cedric Heymans which deserved greater scrutiny.
All the way through, there have been excuses, lenient sentences and incredibly, in the D'Arcy case, no sentence at all.
And we still have a 28-year-old test player banging heads.
The message hasn't got through to Nonu, partly because no one has actually delivered one.
SEREPISOS PLAN SCEPTICISM
Best to adopt a believe-it-when-you-see-it approach to the Phoenix rescue plan, with under-siege owner Terry Serepisos claiming money with Spanish soccer links will send the A-League club into a new and wonderful orbit.
Today bankruptcy, tomorrow the universe. Yippee. Life is simple when you talk an extravagant game and bravado does produce dividends - just look at Wall St.
Serepisos, who owes $3.5 million in tax, has obtained a $100 million loan with Western Gulf Advisory, the company of Indian tycoon Ahsan Ali Syed. The deal will be confirmed only when conditions are met - a not inconsequential matter one suspects.
Why Syed - the owner of Spanish club Racing Santander - would want a deal involving owning half of the Phoenix is anyone's guess. Maybe he is on a roll and doesn't know much about soccer, having only bought the Spanish club last month.
He also had a crack at buying English club Blackburn Rovers last year, leading to the revelation that Bahrain authorities ordered Syed to close his company last year because it made a staggering amount of money in a ridiculously short period of time.
"Fortune favours the brave," is a Syed quote and English newspaper the Telegraph reported that in this case, the company's good fortune involved receiving a mysterious billion dollar loan located in very fine print.
According to an Indian newspaper, Hyderabad police want to talk to him about some of his business dealings.
The doubts around WGA are hardly proven, but from a Phoenix perspective, none of this sounds overly promising either.
Many of us fervently hope a rescue package emerges.
Serepisos may have his faults, but he saved this country's A-League. Sometimes you need the schemers and dreamers to overcome bad odds.
The rhetoric is worrying, though, if you like your loans steeped in reality.
"This could be bigger than Ben Hur," Serepisos claimed on his return from Switzerland.
There is the accompanying claim that the deal will open the way for Phoenix players to play in La Liga, the top Spanish league.
Yes, yes, we've heard all this sort of nonsense before.
Spanish soccer clubs are quite capable of finding their own players without holding hands with little A-League teams and, as yet, Spain is not crawling with our footy exports.
Bigger than Howard the Duck maybe, but let's just leave the Phoenix rescue package there for now.
I seem to remember similar cousin-club claims involving an Auckland A-League franchise and English giants Chelsea.
Chelsea are heavily in debt but at least they still hum along to a Russian tune, unlike the long-gone, and very forgettable Auckland outfit.