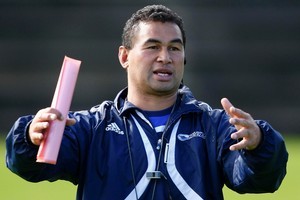 A victorious start to this season against the Crusaders, tacked onto the two wins ending last year's campaign, make up their longest run of success in their 27 games under Lam's command.
Lack of consistency has been the Blues' greatest enemy since their last title triumph in 2003.
Their best run came in 2007 when coach David Nucifora squeezed six straight wins from the Blues while Peter Sloane coached the side to three wins at the end of 2004 then two to start the 2005 campaign.
There have been several other mini-streaks of four straight wins but for the most part sporadic pickings since Blues skipper Xavier Rush held the Super trophy aloft seven years ago.
The Blues are now in Durban where victory against the Sharks this weekend would give them a 50 per cent success rate since Lam took over in 2009.
His side, with Ali Williams returned from injury, won the season-opener against the Crusaders to push the Blues to 13 wins balanced by 14 defeats during Lam's tenure.
"We want to move on from this erratic problem," Lam said. "We want to raise the bar everywhere and we hope that transfers on to the field. It is the way we question each other, demand more from us all and challenge things."
Beating the Crusaders reversed the losing pattern the Blues had suffered against the southerners in the past two seasons. Their next task is to do the same against the Sharks, who beat them 35-31 at Eden Park and 23-10 last year in Durban.
The Sharks are the Currie Cup holders and began the Super 15 with a grinding 24-9 win against the Cheetahs in difficult wet weather at Durban.
"We did kick a lot more than maybe we wanted to, but that is something you have to expect at this time of the year," coach John Plumtree said.
"You couldn't expect us to do much more than that in those conditions. Apart from the humidity, which makes running rugby difficult, there was also the rain."
The Sharks forwards dominated much of the game although they did have a few lineout hiccups. But senior tight forwards such as Bismarck du Plessis and his brother Jannie, lock Willem Alberts and loosie Jaques Botes were at the epicentre of much of the sting from the Sharks.
Skipper John Smit is expected to return after missing the opening game because of a calf strain, senior wing JP Pietersen has recovered from his hamstring problem and lock Ross Skeate is back training after a hand injury.