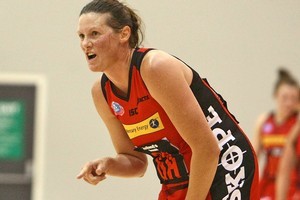 The West Coast Fever made good use of a significant height advantage at both ends of the court to open their trans-Tasman netball league campaign with a hard fought 54-48 victory over the Canterbury Tactix at Christchurch last night.
The visitors were on their way to a seemingly comfortable win when they led 19-10 after the first quarter but the Tactix, who won just one of 13 matches to finish bottom of the table last year, fought to trail by a solitary goal at halftime and the second half was a seesawing affair only decided in the final minutes.
The home team, missing injured captain Maree Bowden's athleticism and vision through injury, struggled early at both ends.
At 1.92m tall, Fever goal shoot Caitin Bassett was dominant over the Canterbury defensive pairing Anna Galvan and new import Kasey Evering, capped 84 times for Jamaica, while shooters Ellen Halpenny and former Steel veteran Donna Wilkins, making her debut for the Tactix after a season off because of pregnancy, struggled against the Fever's international defensive pairing of towering Australian Susan Fuhrmann and Englishwoman Ama Agbeze.
But Canterbury quickly adjusted their play and won the second quarter 17-9, upping their speed through court - Anna Thompson had a solid game at wing attack - and finding ways around the Fever's tall timber to trail 27-28 at the major break.
They edged ahead 37-35 and the Canterbury crowd would have raised hopes of a rare win but a five-goal run at the end of the third quarter and a quick start to the final stanza was enough for the team from Perth to score their third win from four matches against the Tactix.
Bassett was outstanding for the Fever, landing 38 from 41 and receiving good support from her two goal attacks, Leah Shoard and Ashlee Howard as the visitors shot at 93 per cent compared to Canterbury's 81.
Goal attack Wilkins, who clearly has not lost her willingness to put up the long shots, ended with 27 from 33 while Halpenny shot 21 from 25 and had a good game in tough circumstances against the imposing figure of Fuhrmann.
- NZPA