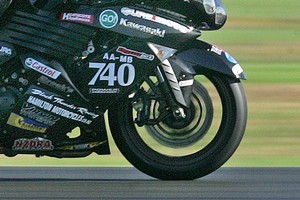 The road code was thrown out the window on the streets of Paeroa on Sunday.
Hundreds of motorcyclists flooded into the small town, at the foot of the Coromandel Peninsula, with the sole intention of flouting the nation's road laws, racing at speeds of more than 270km/h down Paeroa's main street, ignoring stop signals, failing to give way and swerving across the centre lines at every opportunity.
And, though the main speeding offender has been named - Australian Dan Stauffer, on a Yamaha - police turned a blind eye, as they have done for the past 20 years, when the famous Battle of the Streets event is run at Paeroa.
Thousands enjoyed the occasion under a typically blazing sky for this year's Mobil 1-sponsored event, one that ran like clockwork from the 7.30am riders' briefing, right through the packed race programme that started at 11.30am, to the finish at about 5pm.
But few had an answer for the sheer brilliance of Stauffer, a surprise winner because the days leading to the event were the first time he had even laid eyes upon the circuit, but perhaps not so surprising because he had been similarly remarkable when he won on debut at the country's other big street race, the Cemetery Circuit event at Wanganui on Boxing Day.
"It's been a bit of whirlwind," said the 34-year-old from the Gold Coast.
"It was good I got to follow a few others at the start of each race because I was still learning the circuit," said the Bernard Racing Yamaha Team rider. "It takes time to pick these things up but, once I had the lead, I was good to go."
Stauffer won both the formula one races, finishing the day ahead of joint second-ranked riders Hayden Fitzgerald (Honda), of Hawera, and Sloan Frost (BMW), of Tauranga.
Stauffer also won the 10-lap King of the Streets feature race, finishing ahead of Frost, Fitzgerald and Ryan Hampton (Honda), of Christchurch, in that order.
"It's amazing that I could come across and, first time out, win these two prestigious New Zealand street races (at Wanganui and Paeroa). Hayden Fitzgerald and Sloan Frost were going very well and they certainly made me work for it."
Other winners on the day were Auckland's Karl Morgan (Suzuki, formula two), New Plymouth's Terry Fitzgerald (Suzuki, formula three), Rotorua's Scott Birch (Aprilia, super motard), Auckland's Phil Duxbury (Suzuki, post classics, pre-89), Sloan Frost (bears, non-Japanese bikes), Huntly's Ginger Molloy (Bultaco, juniors classics), Napier's Warren Marsh (Norton, senior classics) and Wanganui pair Adam Unsworth and Stu Dawe (Windle, sidecars).