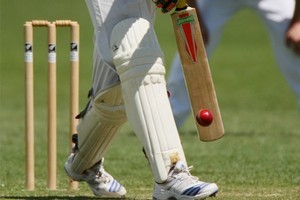 How can a bowler claim four wickets from two balls?
It's a conundrum never mind how you look at it and possibly a contender for the Guinness Book of World Records.
Want a clue?
It has something to do with a three-minute time-out and goes a fair way in explaining how Napier Old Boys' Marist (NOBM) allrounder Indika Senarathne "claimed" four wickets from two balls in their premier men's one-day match at Nelson Park, Napier, on Saturday.
"Put it this way. I've been playing premier club cricket since 1990 and not once have I come across anyone getting 'timed out'," Napier Technical Old Boys player Craig Findlay said after they won the game by 152 runs.
The drama unfolded in the 48th over of NTOB's innings when Findlay took a single off Senarathne in the first ball.
No7 Stevie Smidt, on the other side, then got stumped off an "unplayable wide" in the next ball.
Enter No8 Liam Rukuwai, who tried to lap the 24-year-old right-arm offspinner, only to lose his leg stump for a golden duck.
JK Whyte was the No9 batsmen but he became Senarathne's hat-trick wicket for a golden duck too as he tried to force the ball down mid-on, only to offer the Sri Lankan a caught and bowled.
That's when the "timed-out" three-minute rule kicked in, as it strictly speaking does after every wicket falls.
No10 batsman Craig Herrick was keeping the score at the pavilion before making a beeline for the changing room downstairs to pad up.
Captain Senarathne, with umpire Del Whyte at the crease and Paul Anderson at square leg, kept his eye on the wristwatch and started appealing when three minutes passed as Herrick grappled with the box, pads, thigh pad, helmet, gloves and bat.
"Craig, being his relaxing self, carried on casually padding up as he walked on to the field," Findlay said, adding the umpires had no choice but to give him out.
"Usually it takes some time to pad up after a hat-trick but the umpires didn't agree," he said, adding the men in white told him afterwards they didn't want to give Herrick out.
"I've never seen it happen in my life but rules are rules," Findlay said, adding he was aware of the rule but had not come across any team appealing it before.
"Red [Herrick] was gutted because no one usually has four batsmen padded up.
"Time-out is the most uncommon mode of dismissal."
On a cheeky note, Findlay said Herrick now hoped to flirt with two other quirky modes of dismissal this summer.
They are "obstruction on the field", when a fielder takes a batsman out, and "handled ball", when a batsman picks up a ball rolling towards his stumps.
"I can put money on it that a batsman hasn't been given out on the three-minute rule before and this is the first time."
Findlay said Senarathne, who has claimed a hat-trick in a friendly club day game in England, was a fantastic player and "bloody good bloke" and everyone had learned something from his legitimate appeal.
Senarathne said yesterday he normally bowled after the first 10 overs but, because his team had two new bowlers, he tried them out before injecting himself, in the 22nd over.
"It was the wrong time but as a captain I have to do those things.
"We also dropped Craig five times," said Senarathne, an explosive opening batsman who has demoted himself to No4 after some lean innings.
NOBM coach Brendon Bracewell said Herrick's wicket didn't go to Senarathne and didn't count as a ball.
"He took almost five minutes to get out.
He was standing at the gate and everyone was telling him to rush out, so the umpires had no choice but to give him out," the former international bowler said, claiming the wicket wasn't going to affect the outcome of the game.
"You've got to have respect for the game, so everyone learned a lesson."
For more articles from this region, go to Hawkes Bay Today