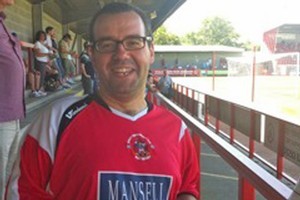 Stephen Hitchcock didn't intend becoming the centre of attention himself when he travelled from Auckland to London to watch his hometown football team Crawley Town play the mighty Manchester United away at Old Trafford in the sixth round of the FA Cup on Sunday (NZT).
But the 41-year-old's whirlwind 48-hour trip - he arrived at Heathrow on Friday and leaves on Sunday - has been labeled 'mad' by The Mirror and has also been covered by the Sun, Sky TV and Talksport Radio.
"I guess I should have expected it considering how I've come halfway around the world," laughs Hitchcock, who is known as Alfie by his Kiwi mates. "But I'm still surprised that people want to know about it."
Located just south of Gatwick Airport, non-league Crawley usually play in the Football Conference four divisions below the Premiere League and like Manchester United they are known as the Red Devils. Hitchcock attended his first match over thirty years ago and has continued to follow Crawley's fortunes from afar since moving to New Zealand eight years ago.
Hitchcock managed to watch Crawley's third-round win over
Championship side Derby County in an Auckland bar in early January. He couldn't believe it when he heard that their fourth-round defeat of League Two Torquay had earned them a tie against the likes of Wayne Rooney, Michael Carrick and Wes Brown, which Manchester United won 1-0.
"I'd said to myself that I'd come over if we ever played at Wembley, and this is pretty much the equivalent of that," he says. "It's like a once in a lifetime opportunity. It's all about the romance of the Cup and the sense of occasion. I'm not even that bothered about the result, which is just as well really. This is my cup final."
Ironically he had already booked the week off from his job at Real Groovy. A dedicated music fan, he'd originally intended to catch Doves in Melbourne but was left at a loose end after the Manchester City-supporting trio cancelled their Australian tour.
"I ended up having nothing on this weekend so that made it easier to try and jump on a plane," says Hitchcock, who will be back at work on Wednesday. "It really was like more than a coincidence. It was like the gods were telling me to come over. It became a case of 'hang the expense and just do it.'"
- HERALD ONLINE