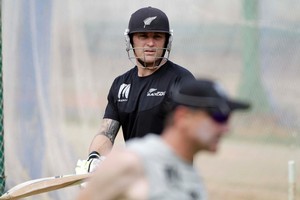 The case for Brendon McCullum becoming Black Caps captain is strengthening within the team but he faces some key political obstacles.
McCullum is believed to have his team-mates' backing over Ross Taylor, his key rival. However, Taylor - who has some measure of respect, but not to the same degree - has the crucial support of the selectors.
The end of the World Cup could see a swing in McCullum's favour. New Zealand Cricket will reassess the selection panel (convenor Mark Greatbatch, Glenn Turner and Lance Cairns) and may opt for changes if the World Cup campaign fails.
This may seem superficial - the selectors sometimes have limited talent to work with - but it could be significant to McCullum if any new selectors sympathise with his aggressive tactical methods.
The present panel does not support McCullum's gung-ho style over Taylor's measured approach.
Crucially, sources claim incumbent skipper Daniel Vettori backs McCullum.
When Vettori relinquishes the captaincy after the World Cup, he intends to be involved at all levels of the international game; although there is some question over one-dayers. Given he and McCullum get on well, Vettori could be a conservative head to consult, if McCullum is chosen.
In addition, John Wright is understood to be keen to to be a selector again. It reflects his desire to control what happens to the Black Caps. It would also be a preventative measure against further selector/coach/captain battles over the value of policies like rotation, such as occurred in the Pakistan series.
Wright has a record of championing the rights of competitive types.
While he had no say over the appointment of Sourav Ganguly as skipper of India during his tenure, it is acknowledged Wright pushed for the promotion of the rebellious Harbhajan Singh. His subsequent progression speaks volumes as India's most successful off-spin bowler.
It is less likely to impact on the process but Taylor and McCullum's respective managers - experienced player agent Leanne McGoldrick and former Black Caps captain Stephen Fleming - are likely to lobby hard for their charges. The captain title adds significant status to a player's CV; and ultimately more money.
Taylor, as vice-captain, has the advantage of being the official heir apparent and has filled in where required. He is helped by a higher batting average when he is captain (42 v 35).
McCullum has plenty of backers who say there is no doubting his leadership. One source said: "Ross gets on well with his team-mates but can tend to keep to himself, whereas Brendon has been an unofficial leader in that team for years."
Others claim that at 29, McCullum could have an advantage over 26-year-old Taylor with four years' extra international experience.
McCullum is more of a gambler than Vettori - and presumably Taylor - but many argue the Black Caps might just as well take a few punts given their low world rankings.
NZC might curse the fact the captaincy issue continues to intrigue fans when they would prefer the focus is on the World Cup, but it remains a key element of the team's direction.
A bizarre compromise could see New Zealand opt for two captains - for example Taylor in tests and McCullum in the shorter international forms.
However, that normally occurs when one player - like England's Andrew Strauss, Australia's Ricky Ponting or Pakistan's Shahid Afridi - does not play in a certain format. Taylor and McCullum are still guaranteed spots in the Black Caps' test, one-day and Twenty20 teams.