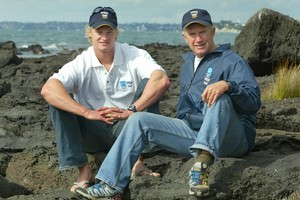 When Ian Ferguson won his first canoeing gold medal at the 1984 Olympics in Los Angeles - he won the K1, K2 and K4 - it was his third visit to the Games and he was 32 years old.
As his son, Steven Ferguson, eyes qualifying for London, he looks to follow in his father's legendary wake.
When the world's biggest sporting showpiece hits London next year, he will be the same age as his old man in his time of glory - with the same number of Games under his belt.
"If I qualify, this will be my third Olympics as a kayaker and I am hoping it will be my best," said Steven Ferguson, who is one of the senior members of New Zealand team at the Oceania Champs in Rotorua this weekend.
"There are a lot of parallels with my Dad's journey to the top and the time he took to get there and I hope that I can repeat some of the success he has had."
Ian Ferguson is New Zealand's most successful Olympian, competing in K1, K2, and K4 kayak events - he won three golds at Los Angeles and a fourth gold medal at Seoul in 1988.
"It takes time to mature as an athlete in an endurance sport, and I feel like I am building to something special," continued Ferguson.
The New Zealand Championship and the Oceania Championship are two of many stepping stones to get there.
"We have the National trials in two weeks' time so we need to be peaking for that."
Ferguson said the New Zealand team is brimming with confidence after solid performances at the Australian Grand Prix 2 event recently.
He took home four medals in very close finishes.
He finished third in the Open K1 200m, just 0.14 seconds off first placed Joel Simpson from the Gold Coast, and third in the 500m.
"It was a good opportunity for a hit out and learn more about K2 with Darryl [Fitzgerald], which is a combination that worked pretty well.
"It is great having the Aussies over here to add some spice to the races.
"I enjoy it when there is more pressure on the race, and hopefully with it being on our own turf we can go well."
Ferguson is well aware that canoeing in New Zealand is in need of some good results after a public spat between his dad and Ben Fouhy.
Fouhy retired, saying that he'd lost his passion for the sport and described Ian Ferguson as "not a very nice person", accusing him of favouring Steven throughout his tenure as coach.
"Then it was made out that I had this big spat with him, which comes across as a bit childish," said Fouhy, who won a silver medal in the K1 1000m event at the 2004 Olympics in Athens.
Ferguson (senior) had earlier described Fouhy as a "pain in the butt" and a complex personality.
Steven Ferguson admitted it had been a hard year for his family but did not want to continue the verbal quarrel.
"There are a lot of positives around kayaking in New Zealand, with the promising young talent coming through at the moment, and we don't need to focus on the negatives.
"For me personally it is all about carrying on doing what I am doing and getting the results.
"I'll fight my battles out on the water with good results."
Steven has been to three Olympics previously, first as a swimmer and the following two as a kayaker, and he feels better prepared than ever.
"My first Olympics [as a kayaker] was a massive wake-up call in terms of how much further I had to come to compete with the world's best," said Ferguson.
He placed 8th in the K-2 1000m and 28th in the K-1 500m at Athens and went onto place 8th in the K-1 500m and 6th K-2 1000m in Beijing.
"I will be better for the experience of Beijing and I felt like I was on the right track and growing as an athlete.
"I'll be doing as much as I can to podium and win races and that comes from consistently reaching the A Finals."
Ferguson is focused on developing a confidence, even arrogance, that he belongs and is capable of winning.
"I need to be mentally tougher, and my old man is instilling that belief in me."
"Hardly any athletes produce personal best times at the Olympics.
"So it is all about consistency of performance in the build up to the highest level. Winning breeds confidence, and if you are doing fast times consistently at top levels of competition then it all seems easier on the bigger stage."
He is encouraged by New Zealand's prospects.
"There is huge potential coming through and we can't be written off yet," said Ferguson
"Kiwis always seem to deliver our best when we are up against it, and I feel like it is our time to shine."