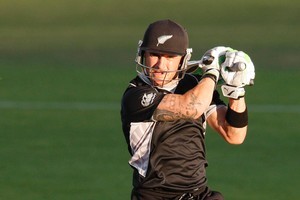 So now we know. The gulf between New Zealand and the very best of the World Cup contenders really is substantial.
There can be no pretending any more, no more talk of only needing to win three games on the trot.
The way India's batsmen left the blood of New Zealand's best bowlers on the turf in Chennai yesterday made it plain how far off the pace, in terms of cup-winning ambitions, New Zealand really are.
First, though, let's be clear. Both teams used more than 11 players. As soon as you do that, something is lost from the contest.
It was a 117-run defeat, but it won't appear in the statistics. So that's okay, right? Wrong.
India's 360 for five represented complete carnage. Their batsmen were admirably ruthless in what was a practice game, a situation in which focus can easily be lost.
First Gautam Gambhir and Virat Kohli, who has the look of a future great about him, eased their way to a 106-run third wicket stand in untroubled, unhurried fashion.
Then Gambhir and his captain, MS Dhoni, depressed the accelerator with 68 off 9.3 overs, before Dhoni and pugnacious lefthander Suresh Raina produced the heavy metal finale.
Dhoni took the batting power play after 34 overs, when the replacement ball arrived.
What followed was a massacre. Jacob Oram was dispatched by Dhoni for five successive fours; Raina lifted three Oram deliveries over the leg side boundary in the space of four balls. Within a 16-ball period, Dhoni and Raina clobbered eight fours and three sixes.
They took 56 in the space of three overs, putting on 124 in 9.2 overs; the final 10 overs cost 136. Whichever way you slice it, this was bad. Or sensationally good, depending on your perspective.
No one escaped the hurt. Mills, after a decent opening spell, went for 61 in his last five overs; Oram's last three disappeared for 40. Tim Southee was the pick but he went for almost seven an over.
Some of the bowling was plain dumb. On a good batting strip, against quality batsmen, pies will be devoured, no matter how they're served up.
If New Zealand's bowlers don't know to keep away from the Indian batsman's legs by now, they never will. Dhoni's unbeaten 108 took 64 balls; Raina's 50 came from 26; while Gambhir's 89 took 85 deliveries.
The one bright spot? Brendon McCullum and Martin Guptill having New Zealand ahead on comparative run rate with their opening stand of 94 in 15 overs.
But from the time McCullum was chopped off by another piece of wretched running involving Jesse Ryder, New Zealand went downhill as India's spinners did their work.
McCullum has talked of low confidence in the squad, which is no surprise.
"We just aren't getting it done under pressure. Honestly, it has definitely dented our confidence a little bit, there's no doubting that," he said.
And this from one of the more upbeat individuals in the squad. Oh dear.