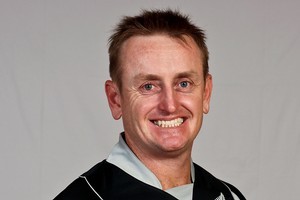 Experienced New Zealand allrounder Scott Styris has drawn a parallel between India's quest for cricket's World Cup and the All Blacks' challenge for rugby's equivalent later this year.
New Zealand play joint hosts and favourites India in Chennai tonight in the second and last warm-up game ahead of the tournament proper.
Styris, a regular visitor to the sub-continent through his Indian Premier League links, believes the Indians will be under a substantial weight of expectation at the cup.
"It's going to be tough for India," he said. "The only thing I can equate it to is the Rugby World Cup this year. The All Blacks start as heavy favourites.
"What that means is a lot of pressure on the team to produce at home. The same will apply here.
"If India win, they'll have played very well and will deserve it. But the pressure of the people of India, that's going to be huge."
Styris recalled that last August New Zealand walloped India by 200 runs, in Dambulla, Sri Lanka.
"We know we've beaten every team on our day. We know we can beat the best, we know we have a good team. We have to keep believing we're good enough," he said.
All good, rousing stuff, but Styris did not mention that was the win immediately preceding New Zealand's wretched 11-game losing streak on the sub-continent.
Both teams warmed up with wins at the weekend. New Zealand scored 311 for six, yet only overcame associate member nation Ireland by 32 runs; India managed a barely par score of 214 before rolling four-time champions Australia for 176 in just 37.5 overs.
Of some significance, seven of the Australian wickets fell to spinners Piyush Chawla and Harbajan Singh, at a cost of 46 runs.
"They bowl a lot of spin, that's going to be a big part of the World Cup," New Zealand vice captain Ross Taylor said.
"Not only the way you bowl it but the way you play it as well."
New Zealand are likely to field the same XI which beat Ireland, with perhaps a swap among the fast-medium bowlers, most likely Tim Southee coming in for Hamish Bennett who got a flogging from the Irish batsmen at the weekend.
The point is that New Zealand have settled on at least nine, and probably 10, of their preferred first XI.
Where other sides have played their warmups using 12, 13 or 14 players, New Zealand have opted to stick with their XI to try to simulate cup game situations.
There was good news for seamer Southee yesterday out of the international website cricinfo.com yesterday.
Southee was one of six award winners, his being for the best T20 bowling performance of the year, for his five for 18, including New Zealand's first T20 hat-trick, against Pakistan at Eden Park on Boxing Day.
Southee was a unanimous choice of the judging panel, which included former internationals, Ian Chappell, Geoff Boycott, Sanjay Manjrekar, Ramiz Raja, Kepler Wessels and former New Zealand captain Martin Crowe.
Southee won a whopping 61 per cent of the vote in the readers' poll, too, easily the biggest percentage across the six categories.
He was in illustrious company. Other winners were Indian batsman VVS Laxman and South African speedster Dale Steyn (tests), Indian hero Sachin Tendulkar and Pakistan seamer Umar Gul (ODIs) and Australian Mike Hussey (T20 batting).