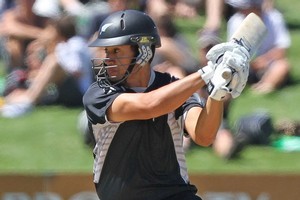 New Zealand batsman Ross Taylor today acknowledged the importance of spin as the Black Caps prepare for their final pre-World Cup warm-up cricket match against India in Chennai tomorrow.
India's spinners played a huge part in their 38-run warm-up win over Australia in Bangalore two days ago, as the defending champions rolled over from 116 for one to be all out for 214.
Newcomer Piyush Chawla spun out four middle-order batsmen to finish with figures of four for 31, backed up by the inimitable Harbhajan Singh's three for 15.
The day before, New Zealand posted a 32-run win over Ireland in a high-scoring match in Nagpur. Martin Guptill's 130 off 134 balls was a highlight of the Black Caps' 311 for six, as was captain Daniel Vettori's four for 42.
Taylor said today New Zealand's approach to spin could prove crucial as the tournament progressed, and a good performance against India tomorrow was vital.
"They bowl a lot of spin, and a big part of the World Cup will be not only the way you bowl spin, but the way you play it as well," he said.
After using a squad rotation policy in the six one-day internationals against Pakistan in New Zealand, the New Zealanders are looking at a more settled line-up.
India played 13 against Australia, but Taylor said the Black Caps wouldn't be doing any more tweaking ahead of the World Cup.
"I'm sure when we play, we'll only play 11. We want to settle on our side, give them as much opportunity as possible, and that's the side we'll go with for most of the tournament."
Taylor said New Zealand's poor recent one-day record - they have won just two of their last 16 limited over games - meant it was important to get the winning mentality back as soon as possible.
"It's been well documented that we haven't played well over the last six months, but we know in ourselves that we're training hard and we can get results.
"We know once we get a bit of momentum, it's only three wins away once you make the quarterfinals," he said.
"We'll come in under the radar and I'm sure we'll surprise a few teams along the way."
Vastly experienced New Zealand allrounder Scott Styris, with 180 caps to his credit since his debut in 1999, also acknowledged the importance of momentum.
"Any wins we get mean momentum. We beat Pakistan in our last match in New Zealand, we beat Ireland the other day.
"If we beat India, then we've had three in a row and that sets us up nicely for our first match against Kenya."
Styris said the Black Caps' first priority was to record a win over Kenya on Sunday, before looking at the challenge of Australia in Nagpur on February 25 and Zimbabwe in Ahmedabad on March 4.
"We know we've beaten every team on our day -- it's only six or eight months ago that we beat India by 200 runs, so we know we can beat the best.
"We know we've got a good team. We've just got to keep believing that we're good enough. Once you get to the quarterfinals, and we should stress that's our first goal, then anything can happen.
"It's all on the day, previous results and world ranking mean nothing."
- NZPA