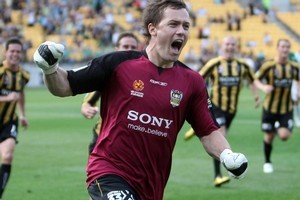 The Wellington Phoenix needed just 10 minutes to book their passage to the A-League play-offs.
But for the remaining 80 minutes in front of a season-high crowd of 12,700 at Westpac Stadium yesterday, there was a degree of uncertainty until goalkeeping hero Danny Vukovic sealed the deal with a stoppage-time penalty.
That earned the home side a comfortable 3-1 win over a North Queensland Fury side that was never going anywhere.
Given a buffer after early one-on-one goals from Chris Greenacre and Dylan Macallister in the seventh and 10th minutes, the Phoenix went into coast mode to ensure players like stand-in captain Tim Brown did not pick up senseless cards that could have ended their play-off chances.
Those early goals were decisive and sucked any fight from the visitors, long resigned to the wooden spoon.
The home side wasted no time in taking the initiative and were justly rewarded when Marco Rojas threaded a ball through to Chris Greenacre, who beat the Fury offside trap on halfway and sped away, drew goalkeeper SebastianUsai and calmly slotted his eighth goal of the season.
Three minutes later, Ben Sigmund, returning after his two-match suspension, dinked a good ball over the Fury defence for Macallister to run on to and again, with the rearguard nowhere to be seen, commit Usai before slotting home for 2-0.
Comfortable with that handy early lead, the Phoenix settled, gave little to the visitors and happily went into a pattern of containment while looking to Rojas and others to spark some life when opportunities arose.
Playing in conditions more akin to those at home in Townsville, the visitors were happy to feed off the scraps but rarely threatened to close the gap.
They did eventually manage to do just that but only when gifted a goal.
Brad McDonald played the ball in from a 66th-minute corner and Brett Studman, left free by the Phoenix defence, rose and headed home unchallenged, much to Vukovic's disgust.
The Fury picked up a couple of needless bookings and eventually gave up a penalty when Studman held up Phoenix substitute Mirjan Pavlovic and earned a red card for his trouble.
From the last kick of the game, Vukovic, in what would have been his last game for the Phoenix had they not grabbed the point to ensure their progress, whipped home from the spot to give Usai no chance.
The Phoenix now have a quick turnaround before heading to Hindmarsh Stadium for a Friday clash with Adelaide United in the first sudden death game in the top six play-offs.
Captain Andrew Durante, who has sat out the last two matches of the regular season through suspension, returns for the Phoenix, which will give coach Ricki Herbert some soul-searching after the steady efforts of Sigmund and Jade North yesterday.