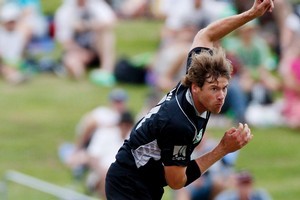 If there was one major positive that came out of the lost and rotated six-game ODI series against Pakistan, it was that the identity of our best XI is pretty clear.
It is: Martin Guptill, Brendon McCullum, Jesse Ryder, Ross Taylor, Scott Styris, James Franklin, Nathan McCullum, Daniel Vettori, Kyle Mills, Tim Southee and Hamish Bennett.
The only name I hesitated on was Bennett. It was between him and Jacob Oram for that third seamer's spot. While I have tremendous trust in Oram's bowling, I felt there is enough hitting power in the team's lower order and Bennett provides variation with his aggression and wicket-taking ability as opposed to containment. His method provides Vettori with some late-middle over aggression.
I'm still confident that this team possesses enough ability to do well at the World Cup. What also makes me confident is that there is some trustworthy quality on the bench.
I'm not convinced by Jamie How nor Kane Williamson just yet, so losing top order players could prove devastating.
However, in Luke Woodcock, there is adequate cover should Vettori or Nathan McCullum go down. In Oram, there is bowling cover for all three seamers and some late order firepower.
But if the top order do not fire, the World Cup will be a flop. The selection issue for me is what order they play in. Brendon McCullum, Guptill and Ryder are all capable of opening or batting at first drop. If McCullum returns to the top, it would be tempting to reunite him with Ryder but I would not.
Guptill must open. He played well in the Pakistan series and opening carries a different mentality from first drop. Ryder belted a brilliant century in the final game at three, so leave him there. He will also start well and aggressively against spin and, if the top two do their job, he may have to start against the slower bowlers. So in by default goes McCullum to one.
Many wanted Taylor at three but that is not possible and it didn't work out in the lead-up. He stays at four. It's not like he isn't accustomed to that anyway.
Styris was wonderful at six in Auckland but he bats five for me. Five can be a difficult position. Styris is our most all-round player, hard-nosed, great at pacing an innings and experienced. He is the ideal five.
That leaves Franklin at six. Franklin has shown a cool head in crisis. He can adapt to a situation like four down for not many, bat time and accelerate late. He also has effortless striking ability if he must finish an innings.
In my team, I bat Nathan McCullum ahead of Vettori at seven. This would never happen in a test but McCullum has begun to prove an effective player with bat in hand and I want to give him every opportunity to get himself in before playing those inventive shots of his.