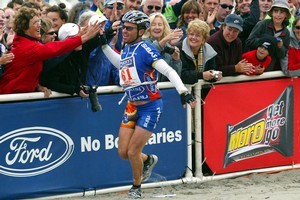 Ask multisport legend Steve Gurney what is the key to winning the Speight's Coast to Coast and he says without hesitation: experience.
The nine-time champion, who won the title for seven years straight from 1997 to 2003, knows better than most. "It is hardly ever won by athletes on their first attempt," he said.
"It took me five years to win my first one [1990] and from there I grew in confidence in knowing how to win it. You need to know how hard you can push your body over that terrain and for how long is the key to winning the Coast to Coast."
That is why Richard Ussher, the three time Speight's Coast to Coast three times (2005, 06, 08) is favoured for the men's title ahead of 2010 runner up Dougal Allan to claim the world title.
"It is definitely going to be a tough race," said Ussher who returns to multisport, adventure racing and Xterra running after a stint in ironman.
"Dougal is a fantastic athlete and he has plenty to prove after last year.
"He is my biggest threat and it is going to be a battle to the end.
"History has shown that athletes who are a little bit older or have a bit more experience go well here so I hope that continues."
Not that Allan and Ussher are the only ones capable of winning today.
Two-time Canadian multisport champion Jakob Van Dorp, who was 12th last year, is expected to be a threat with three-time kayak marathon world champion Chad Meek from Australia.
The 36-year-old Victorian has enjoyed several podium spots in top Australian races since taking to multisport in the past two years.
"I am expecting he'll make up some serious ground on the kayak leg so we need to be ready for that," said Ussher.
Ussher - the Olympic skier who became a multisport and adventure racing world champion and then New Zealand's fastest-ever Ironman triathlete - has not raced the Speight's Coast to Coast's since 2008 when he defeated arch rival Gordon Walker.
He is naturally excited to be back in a sport where he feels most at home. "It is great to be back and I feel most comfortable in adventure racing," said Ussher who over-trained last year in ironman and burned out. "My build up has been really relaxed which is nice.
"I got to the start of summer and the idea of doing a 180km on the bike and then following it up with a marathon like I needed to for ironman just didn't appeal. I feel refreshed and excited to have my name back in the mix in the Coast to Coast."
Event organiser Robin Judkins is thrilled to have Ussher back.
"Richard is a phenomenal athlete and I think he'll win," said Judkins.
"He is a natural champion, he is another Steve Gurney and he knows how to win."
But while he loves the event, Ussher dismissed any thought of challenging Gurney for his mantle of record Coast to Coast titles.
"Steve and I are motivated by different things," said Ussher.
"His record here is phenomenal and it is impressive his ability to get up for the same race year after year and perform so well. But I am more about new challenges and that is what ironman was all about for me - taking on something new."
Gurney is still gutted by his forced retirement before he could win the title for a 10th time.
"The most frustrating thing about my retirement was it was out of my hands," said Gurney who battled an ankle injury for two years. "It was gutting but I had a good run and now it is up to others for their turn."
While they won't break Gurney's record Elina and Richard Ussher have a good chance of becoming the first husband and wife winners in the same year. Race record holders Keith and Andrea Murray are husband and wife, but they won on separate occasions, in 1994 and 1997.
"I really hope that Elin has a great day and shows everyone how good she is over the full course. She is in great shape in all the disciplines and if she gets her head around the race she'll be a good chance and I can get over the line too."
Being the first couple to win the respective Coast to Coast titles would be worth celebrating.
Gurney fought for his life
Steve Gurney's fighting qualities made him the greatest athlete in Coast to Coast history but also saved his life.
The legend of the sport almost died in 1994 from leptospirosis, an infection he caught from bat dung in the Mulu caves in a gash in his leg while racing in Sarawak jungles in Malaysia.
Leptospirosis is a rare and severe bacterial infection.
"It was the scariest time of my life," remembered Gurney.
"My kidneys and lungs shut down and it was a hell of a fight and I didn't know how much worse it would get. They were pessimistic about my chances of surviving but I never accepted that. The virus knocked me in every way.
"My win after suffering that illness is one of my proudest achievements, that, and my first ever win after five years of trying stand out as career highlights of the Coast to Coast."