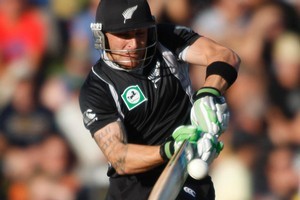 Despite their recent run of bad form, New Zealand are worth a (small) wager New Zealand cricket's successes are invariably the result of all parts of the puzzle fitting together at the right time. But if they are to enjoy a strong run at the World Cup certain players must step up and lead the way. David Leggat compares four of our best to the recognised leaders in their roles.
Brad Haddin and Brendon McCullum
With all the kerfuffle about where he should bat behind him, McCullum can settle down to regaining his best opening touch at the World Cup. First off, he must stay fit to keep wicket. Squatting in the heat for 50 overs, then opening the innings is a tough call but he wants the gig. Look at his numbers: 3781 runs at 28.21 from 184 ODIs overall; 2224 at 32.23 from 76 as an opener. Both his tons have come at the top. If McCullum's not firing, New Zealand have a big problem. A comparison? Try Australia's Brad Haddin, a like-for-like. The flinty Aussie averages 33.58 from 35 innings as an opener, including two hundreds against New Zealand, vs 31.98 overall from 76 games. Haddin is slightly more measured, and orthodox. McCullum might be New Zealand's batting ace. It won't hurt to take a few minutes to get his bearings before stepping onto the launch pad.
Still, watch for pyrotechnics.
Kumar Sangakkara and Ross Taylor
It is 48 ODIs since Ross Taylor got the last of his three ODI tons. So what better time to regain that three-figure urge than at the quadrennial jamboree? Since that hundred against Bangalore in October 2008, Taylor has made 18 scores of 40 or more. He averages 35.01. Now he needs to convert. He's the team's senior batsman. Really good players stand up on the biggest stages. Taylor knows the conditions they'll encounter as well as any through his IPL connections. This is his chance to present his credentials to sit at the big table. A comparison? Sri Lanka's captain Kumar Sangakkara, a brilliant leftie who averages 36.86 with 10 hundreds over 282 ODIs. Sangakkara's tons have dried up of late too, although 26 of his 58 innings since his last hundred have produced more than 40. Just as Sri Lanka will rely on their articulate leader to set the tone, so New Zealand need their captain-in-waiting.
Chris Gayle and Jesse Ryder
If there's one player for whom New Zealand's cricket public have silently crossed their fingers it's the mercurial Wellington left-hander. If Jesse Ryder is on, look out. His dazzling 107 off 93 balls against Pakistan at Eden Park last weekend was the latest reminder of his rich talent. But will he turn it on, repeatedly, at the World Cup? And just as importantly, will he stay healthy? Injuries bedevil him. A fit and firing Ryder lifts New Zealand's hopes substantially. He averages 35.7 from only 28 ODIs with two hundreds, the other his 105 off just 80 deliveries against India last season. Chris Gayle is not quite a like-for-like. He opens and blasts from the off; Ryder will be at No 3 but look for a similar approach, particularly in the first 15 overs with the field up. The Jamaican cool cat has hit 19 ODI tons, averages 39 and is explosive. The hitters. Think Cameron White, Yuvraj Singh, Virendar Sehwag ... This should be fun.
Harbhajan Singh and Daniel Vettori
Dan Vettori remains one of the one-day game's most effective bowlers. In 266 ODIs since 1997, he's taken 279 wickets at 31.27. He does his business with variations in flight, pace and angle and without an obvious change in action. That's a key. New Zealand need Vettori at his best. He can anchor the bowling operation, can peg down runaway batsmen and keep an end bottled up. In short: no Vettori, little hope for New Zealand. And that's not to forget his importance with the bat, around No 8, even including his occasional, disconcerting step way outside his off stump in search of space. Harbhajan Singh is India's premier twirler. Compare his vitals with Vettori. Harbhajan's debut was one year later; he's 30, two years younger, but the numbers are similar: 246 wickets from 217 games at 33.14, and his batting is distinctly handy. Their personalities differ, they turn the ball in opposite directions, but you can't deny their importance to their team's campaigns.
-- Easy as it is to give New Zealand as much chance of winning cricket's World Cup as Hone and Winston becoming political bedfellows, totally discount them at some peril.
Not because they are suddenly going to take a pile of Incredible Hulk pills and metamorphose into an amalgam of the best of India and Australia - winners of the last three tournaments - at the 50-over game.
Instead, look at the cup in this light: each group contains three relative lightweights.
In New Zealand's case, they play Kenya, Zimbabwe and Canada, along with Australia, Pakistan and Sri Lanka.
Beat the three lesser nations and New Zealand are guaranteed a quarter-final place. Call it a flaw in the format but there it is.
At that point, things go knockout and it's dead simple: win three games and you win the cup.
When did New Zealand last do that, I hear you ask?
Between November 2009 and March last year as it happens. New Zealand actually won six ODIs on the bounce, against Pakistan, Bangladesh and Australia. So these things can be done.
It was only 16 months ago that New Zealand made the final of the Champions Trophy in South Africa.
En route, they beat Sri Lanka, England and Pakistan inside a week.
They would surely have given Australia a far tougher examination in the final had captain Dan Vettori not been forced out through injury.
So these things can be done.
On the flipside is New Zealand's wretched run on the subcontinent last year. Bangladesh and India saw Vettori's men off by a combined 9-0 and much of the cricket played was awful.
But they were series. The World Cup has a solid one-off component to it. They're all games, 11 vs 11 and all that, certainly. But the mindset is not the same.
Talk to the players. Traipsing out for game four against the same faces, having been dumped hard in the previous three can make motivation a tricky business. It shouldn't, but it does.
A series of individual games against a range of opponents? A very different proposition.
Now, it could be that New Zealand will troop home having been eliminated in their quarter-final (if they don't make it that far, expect a Keith Murdoch-like unexpected offloading at Dubai for a short-term disappearing act before returning wearing false moustaches, big noses and wrap-around shades).
They may well be beaten on merit by a superior opponent. That happens.
Equally, they could turn up trumps in those no-second-chance situations.
One of their problems of late has been consistency, although those of a mischievous mind might argue the opposite: that in fact they've been consistently bad.
Frankly, the winners of the cup are likely to be India, Sri Lanka, Australia or South Africa if, for a change, they can keep their heads in a tight situation.
But where there's life there's hope. And New Zealand have the "if" factor, just as much as the other major nations.
So don't despair just yet. Then again, best keep the wallet closed for now too.