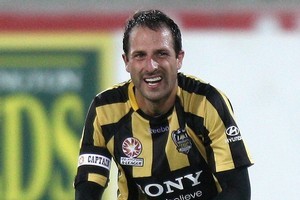 A-League bosses obviously know more than the rest. In a communique sent out to clubs and media yesterday inviting them to Monday's finals launch in Sydney, the Football Federation Australia listed the six clubs who would be in attendance.
The Wellington Phoenix were listed with coach Ricki Herbert, captain Andrew Durante and injured striker Paul Ifill as their representatives.
But, hasn't someone jumped the gun here?
The Phoenix, while still favoured to make the cut, have yet to do it.
They are still under some pressure knowing they must get at least a point from tomorrow's game with North Queensland Fury to secure the sixth, and last, playoff spot.
Should the Phoenix, chasing a rare sixth straight A-League home win - only two other clubs have managed that (or better) - stumble and succumb to the cellar-dwellers, Newcastle Jets, in the last game of the regular season (just minutes after Peter O'Leary blows fulltime in the capital), would take that spot with a win over Central Coast Mariners on goal difference.
The Phoenix are not thinking point or draw.
Durante, who sat out the 2-0 loss to Sydney midweek as the first part of a two-game suspension, and will not play against North Queensland, is confident his teammates will finish the regular season with a flourish.
"All we need is a point, but if that is all we get it would be a big disappointment," said Durante.
"We need three points and a good performance to build confidence going into the playoffs as well as provide a spectacle for those fans who have been fantastic again this season.
Most of the Phoenix' problems came with Sydney going through the centre of defence where Durante would normally have been.
His place was taken by teenage defender James Musa, who struggled against a strong Sydney strike force.
"It was a difficult night for Musa," said Durante.
"He is a promising young kid but to be thrown in the deep end against experienced strikers like Carle and Cazarine was tough.
"With myself, Ben Sigmund, Vinnie Lia and Manny Muscat missing it was always going to be tough backing up after Saturday's game in Adelaide.
"Sigmund and Muscat will be back and while Sydney was on a six-game unbeaten run, Fury have struggled all season and we are at home."
Herbert is in the same frame of mind as his captain, saying there will definitely be no sitting back looking for a point.
"If you get into that mode it is hard to get out of it and funny things happen in football," he said.
"I want us to play attacking football which we always do at Westpac Stadium."
With the addition of Muscat and Sigmund, Herbert is likely to put his faith in the group of players who have revived the Phoenix' playoff hopes in recent weeks, but will not name his squad till after training this morning.
A-LEAGUE
Wellington Phoenix v North Queensland Fury
Westpac Stadium. Tomorrow 5pm (live SS1)
Referee: Peter O'Leary