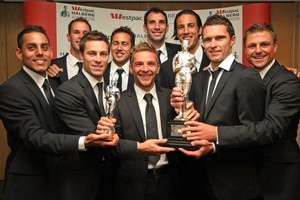 The All Whites winning the supreme honour at last night's Halberg Awards has stirred up a storm of controversy, with many saying the team, who won only one game last year but were unbeaten at the FIFA World Cup, didn't deserve the award.
Distance running champion Dick Tayler has even resigned from the judging panel in protest of the decision.
Not surprisingly, debate is running fierce with nzherald.co.nz readers as well, with many sticking up for the All Whites but scores of others saying the team shouldn't have won.
"The All Whites shouldn't have even been there," said Viv Courtis. "Giving them the team award is an insult to all the sports men and women who actually won something - not get knocked out of the first round of a multi-round competition."
Don agreed. "I don't know how a team that didn't win anything can scoop the awards. I think they did extremely well in a world event, but to win the awards, no."
"I don't believe there is another nation on earth that would reward a national team for competing at an international event - and winning nothing," said Kiwistreet.
Spencer Roff thought the All Whites' win was "PC BS". "Congratulations New Zealand for rewarding mediocrity, Way to show the youth of today that participation is the key."
But Bill Wilson said: "Of course the All Whites should have won it and it would have been idiotic for anything else. The World Cup is played in over 190 countries when Rugby at best is 20 with 10 of them, Rugby being a very minority sport. To be at the World Cup was great but to get three results, especially against the reigning World Champs will always be special."
Texman agreed: "I think the awards were pretty much spot on. It was a great year for Soccer and this was rightly reflected."
Ivan K said: "Football world cup is the biggest sports tournament in the world, and for a country that didnt even understand the offside rule back than, this was an amazing achievement."
KiwiSmithy thought much of the opposition to the All Whites' win came down to narrow-mindedness. "To win qualification to a World Cup finals, something only 32 teams out of something like 200 entries can achieve, and to then remain unbeaten in that tournament is an enormous achievement every bit worthy of the awards given."
Coniston Lad, a Kiwi living in the UK, said "to say that the All Whites did not deserve this is an insult... Get a grip Kiwis and realise that the rest of the world think that this is an amazing achievement."
What does the rest of the country think?
Many well-known sporting and media names have come out in support of the All Whites.
"The All Whites deserved everything they won last night," tweeted sport broadcaster Andrew Mulligan.
The host of Prime TV's The Crowd Goes Wild said today he was enjoying the "anti All Whites sentiment."
"Most whingers were so firmly up their arses in 2010 that they couldn't see daylight."
The hero of the All Whites' 1-1 opening round draw with Slovakia was dismissive of criticism of the Supreme award by the Herald's Dylan Cleaver.
"Who is Dylan Cleaver?", tweeted Winston Reid. "I've never heard of him."
Teammate Jeremy Christie appeared dissatisfied with the judges' decision not to award the sportsman of the year award to skipper Ryan Nelsen.
"I think Richie McCaw is awesome, but Ryan should've won that," he tweeted last night.
"I guess they couldn't give us everything."
Sky TV rugby commentator Scott Stevenson thought he could at last breathe a sigh of relief: "At least we don't have to talk about 1982 anymore."
Not so fast, warned TV3 sport reporter Andrew Goudie.
"Won't the next gen do the same?"
Goudie tweeted last night that he was tired of the debate.
"Read the criteria, it's a no brainer ... 'performance', 'pinnacle event', 'quality of competition', 'global nature of the sport'. All Whites. End of."
His colleague, TV3 rugby commentator Hamish McKay, suggested winning was not a factor for the judging panel. Tweeting back at Goudie, McKay said it was time for either the judges or judging criteria to change.
After former Commonwealth Games athletics champion Dick Tayler resigned from the judging panel in protest, the debate was prompted to move in another direction.
"Bad sport?," asked media commentator Regan Cunliffe. "I think so."
- NZ Herald staff