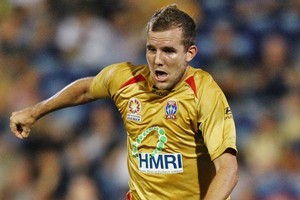 Ricki Herbert had barely been anointed as New Zealand sport's coach of the year before a member of his unbeaten All Whites World Cup squad was pivotal in delaying the celebration of another achievement.
Herbert and the New Zealand soccer team were popular winners at the Halberg Awards in Auckland last night though midfielder Jeremy Brockie put a dampener on the evening from afar as Newcastle kept their A-League finals hopes alive with a 4-0 thumping of Perth Glory.
Newcastle are the only side capable of pipping the Wellington Phoenix for the sixth and final playoff berth and must still beat second-placed Central Coast on Sunday to match the New Zealanders existing 38 competition points.
They must also rely on wooden spooners North Queensland conjuring up an upset of the season at Westpac Stadium, also on Sunday, for the Phoenix to be denied.
Wellington, who only needed to glean a point from their final two regular season matches after a precious away win in Adelaide last weekend, have had two of their pathways to a second finals series blocked by a 2-0 loss at Sydney FC midweek and then Newcastle's timely return to goal scoring form.
The competition's worst attack had managed just 25 goals in their previous 28 games but the Jets finally experienced lift off at Energy Australia Stadium thanks to man-of-the-match Brockie and super-sub Sasho Petrovski.
The All White expertly chested down a cross for Labinot Haliti to fire in the opener in the 13th minute; Brockie then added the second 10 minutes after halftime when he powered past Scott Neville and angled the ball past Tando Velaphi.
Veteran striker Petrovski then brought Newcastle level on goal difference with the Phoenix from the spot and 60 seconds later put the Jets in credit with a clinical finish after intercepting a risky Brent Griffiths pass.
Brockie, whose career has been fragmented by two broken legs and more niggles this season, was glad to repay some of the faith Newcastle fans had shown in him since his switch from North Queensland.
"I had to give something back because I've been out for so long. It was nice to get on the score sheet."
He also had no qualms about making the Phoenix work hard to make the post-season.
"I have no hard feelings. We knew we had to go out there and fix our goal difference to stay in the hunt.
"We've done that so hopefully we can win on Sunday and the Fury can do the Phoenix."
Phoenix players watched events unfold at Energy Australia Stadium and although Perth did them no favours the schedule is still favourable. North Queensland arrive in Wellington as rank outsiders - the club is at risk of collapse and that uncertainty has been reflected in the Fury's on-field performances.
They have won just once in their last 13 games - a 1-0 victory at Sydney FC on December 15 - and have conceded a massive 31 goals during that time frame including eight against Adelaide, Wellington's likely opponents providing they avoid catastrophe in the capital.
The Phoenix beat North Queensland 2-1 at Westpac Stadium in September but were held to a l-l draw in Townsville in late December.
Although the defensive performance against Sydney FC on Wednesday was concerning, Herbert will be encouraged by the fact first team regulars Ben Sigmund and Manny Muscat will be back from suspension.
- NZPA