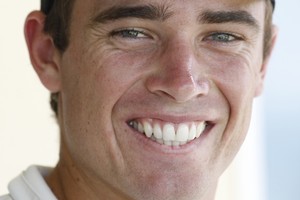 New Zealand Cricket Players' Association boss Heath Mills says Black Caps manager Dave Currie poorly handled accusations that Tim Southee acted lewdly on a flight, letting the story grow like "wildfire".
Medium pacer Tim Southee was yesterday accused of getting a little too close and personal with a female passenger from first-class on board an Emirates flight, causing Twitter to explode with rumour.
A passenger on the flight from Sydney to Dubai told a radio station the incident was the worst possible sort of lewd behaviour, a claim hotly denied by Southee and his employer.
While the passenger who roused the 22-year-old cricketer's passions was asked to leave business class by an Emirates staffer, a source told the Herald the raunchiest things got was her "sitting on Southee's knee and kissing him on the cheek".
At Dubai airport, where the team stopped en route to the World Cup in India, team manager Dave Currie initially said he had been made aware of an incident and was investigating.
Players' Association boss Heath Mills yesterday described Currie's reaction as unhelpful.
"I have spoken to both Tim and [Black Caps captain] Dan Vettori and have been assured nothing untoward happened," Mills said.
Today Mills told Radio Live that Currie should not have commented until the facts had been established. He said Currie gave grounds for articles to be published by saying an investigation was under way.
Last night, Currie issued a statement through New Zealand Cricket: "I have ... carried out a thorough investigation," he said.
"I've spoken to Tim directly as well as team management. Tim has described a detailed version of events and has provided a written statement.
"I also spoke with several individuals and held a team meeting. Everyone is adamant that nothing untoward occurred on the flight and are surprised about the reports," Currie said.
"Tim met a female passenger on board the plane and spent some time with her. However, we are confident that nothing inappropriate happened between them."
'Acting like a groupie'
A New Zealander on the flight, Pippa Tabron, described the woman in question as "overweight and acting like a groupie".
Ms Tabron said she stayed awake for most of the 15-hour leg and saw no evidence of anything resembling carnal relations.
"There was a really pissed young girl in shorts, moving up and down the aisle," Ms Tabron said.
"There was nothing going on that I saw. The boys were not hanging off her."
Ms Tabron said she had been drinking with some of the team at the stand-up bar on the Airbus A380.
She had even been joking with Black Caps batsman Jesse Ryder about his recent poor form.
"They were just chatting and talking, they certainly weren't leering it up."
An Emirates spokesman said the airline was looking into an alleged incident on flight EK413 from Sydney to Dubai.
"Emirates places the highest importance on the flight experience of its passengers and any behaviour which may impact is taken very seriously," the spokesman said.
Southee is not the first high-profile sportsman to have his in-flight behaviour questioned.
In 2007, former All Black and Kiwis rugby league player Matthew Ridge and Rebecca Loos - whose claim to fame was an alleged affair with England soccer captain David Beckham - were told to "modify their behaviour" on a flight to Los Angeles.