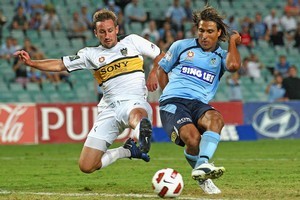 Dead and buried defending champions Sydney FC cut one of the Wellington Phoenix's multiple lifelines to the A-League soccer finals tonight with a consolation 2-0 victory despite the heroics of Danny Vukovic.
Out of contention for the finals series after a draw in Newcastle weekend, Sydney FC ensured the Phoenix must wait at least 24 hours before confirming the sixth and final playoff position.
Wellington are still favourites to progress - they host bottom-placed North Queensland at Westpac Stadium on Sunday though celebrations could yet start as early as tomorrow.
Newcastle must beat Perth Glory to retain hopes of equalling Wellington's 38-point haul; second-placed Central Coast must also be defeated on Sunday - though with the Phoenix playing North Queensland in the early game their fate might already be sealed.
Striving to secure the finals-sealing point - and a third successive victory - an under strength Phoenix team barely threatened, and only avoided a thumping thanks to Perth-bound goalkeeper Vukovic.
Should the race for sixth revert to goal difference, Vukovic would have played a massive role the Phoenix progressing.
Newcastle had a negative goal difference of five compared to the Phoenix, Sydney could have erased that deficit on their neighbours behalf inside 15 minutes.
Sydney striker Bruno Cazarine squandered an ideal opportunity to open the scoring in the fifth minute when Jade North's appeals for a foul were ignored, allowing the Brazilian to surge unimpeded into the box before Vukovic blocked after narrowing the angle.
Vukovic was the saviour again five minutes later when Juha Makela bore down on goal after holding off the challenge of 18-year-old rookie defender James Musa.
The goalkeeper's frustrations with his central defenders North and Musa - who were clearly playing together for the first time -- boiled over in the 14th minute after his reactions thwarted both Nicky Carle and Makela.
Carle strode effortlessly into the box forcing the stranded Vukovic to bravely advance and parry his shot before scrambling to his feet to deny Makela's rebound.
Vukovic remonstrated with North who also didn't endear himself when obscuring his keeper before Hirofumi Moriyasu's curling effort was spotted and palmed in the nick of time as Sydney FC's siege continued.
Musa, making just his second start of this, his debut season, for suspended captain Andrew Durante endured a torrid opening half but temporarily redeemed himself on the half hour when his desperate lunge knocked Makela off balance as he was about to unload in Vukovic's direction.
Inevitably Vukovic ended the half as he began with another critical intervention - Cazarine's blast seemed destined for the right hand corner until the Australian got airborne to punch the ball clear.
Amid Vukovic's heroics, former Phoenix stopper Liam Reddy was barely tested in the first half - a long range shot from Nick Ward tipped wide for a corner his only anxious moment. He was also largely unemployed after the break.
Ironically Vukovic was ultimately beaten by one of his own after Carle botched a penalty he had won in the 54th minute when hauled down by the unfortunate Musa.
Carle featured three times in the incisive movement but had a hash of his spot kick, thudding the ball into Vukovic's legs.
The keeper also foiled Carle's rebound but was cruelly beaten when the ball cannoned off Ward into the net.
After a quiet opening half Carle was more prominent in the second, leaving a sparse crowd of less than 5000 to boo coach Vitezslav Lavika's decision to sub him for fellow midfielder Brendan Gan in the 64th minute.
The faithful were happier five minutes later though when an unmarked Gan swept the ball home after Shannon Cole nutmegged Tony Lochhead on the edge of the area and laid on the perfect cross.
- NZPA