Auckland v Otago
Colin Maiden Park, 11am today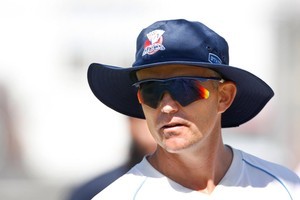 It's a moot point whether home advantage is less of an influence in one-off contests.
Auckland will be hoping hosting Otago at Colin Maiden Park today is of considerable benefit as they strive to reach their second consecutive national one-day final this weekend.
Auckland lost out on having the final at home when they were well beaten by Canterbury on Sunday, limp middle and lower order batting proving costly as they chased 269 for victory in the major preliminary final.
But Auckland's form has been solid this campaign and they should be capable of rediscovering the means which have worked well.
However Otago will be buoyed by events in Queenstown last Sunday.
They had lost their previous two games and tied one going into their semifinal against Northern Districts.
At 80 for five, chasing 272, things were bleak.
However wicketkeeper Derek de Boorder maintained his fine form this season, and with Darren Broom shared an Otago record 165-run unbroken stand for the sixth wicket, eclipsing the old mark of 129 set by England batsman Jonathan Trott and Nathan McCullum against Auckland in 2005-06.
With rain playing a part, and Duckworth Lewis calculations coming into play, Otago won by nine runs.
"You don't get a tougher situation than that to come in and bat through with rain and the Duckworth-Lewis always in the back of your mind," Otago coach Mike Hesson said.
"The way they went about things was outstanding."
So with Otago having a spring in their step and Auckland needing to bounce back, it should be a good contest.
Auckland made the final last season as top qualifier, had a week off between semifinal and decider, and lost to Northern Districts at Colin Maiden Park.
This time they play through.
On balance, they would rather have had the week to prepare as top qualifiers, but there are advantages in having another game today, coach Paul Strang believes.
"It's quite a long week where you're thinking about the final," he said.
"You've got into a rhythm of playing a game every three or four days and not to play one for a week means a little bit of a mental adjustment to it.
"These games to come down to sudden death and playing well earlier in the competition we've given ourselves a life."
Auckland, who have kept an unchanged 13 for today's game from the Canterbury trip, have won five of the last seven completed one-dayers against Otago going back over the last four seasons.
But that is unlikely to count for much today.
Otago have come north with the XI from Queenstown, plus Warren McSkimming and Craig Smith.
Wellington have parted company with head coach Anthony Stuart after five largely disappointing seasons.
Stuart took over from Vaughan Johnson for the 2006-07 season, and Wellington have sat at or near the bottom of the table across all three competitions for much of that time.
THE TEAMS
Auckland: (from) Gareth Hopkins (c), Tim McIntosh, Jeet Raval, Lou Vincent, Anaru Kitchen, Greg Todd, Colin Munro, Colin de Grandhomme, Andre Adams, Daryl Tuffey, Ronnie Hira, Michael Bates, Chris Martin.
Otago: Craig Cumming (c), Aaron Redmond, Michael Bracewell, Neil Broom, Darren Stevens, Darren Broom, Derek de Boorder, Ian Butler, Nick Beard, James McMillan, Warren McSkimming, Craig Smith, Neil Wagner.