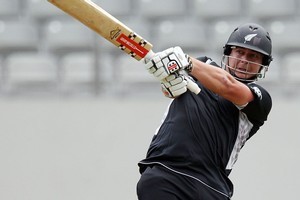 The Black Caps need to bottle whatever was said in the dressing room during their hour-and-a-half vigil in the Seddon Park dressing room on Thursday night after their 14th loss in 15 one-day internationals.
Maybe they should call it 'L'eau de Tron'. Whatever it was, it helped the side bookend the six-match series against Pakistan with another victory yesterday, this time by 57 runs, meaning they lost the series 3-2.
It is their first one-day series loss at home to Pakistan in 17 years, but it would be churlish to dwell on that fact with the World Cup the next port of call.
The stern words, and no doubt a few home truths about recent performances, produced some real venom. It has given the team valuable momentum heading to the tournament. They showed enough spine to show their talents are still to be respected.
"Hopefully we'll get something out of this at the World Cup, especially after our meeting [on Friday] to finally sort out the top order," stand-in captain Ross Taylor said after a tough six months.
The win was not without difficult moments. Hamish Bennett only really put the match beyond doubt with the dismissal of Pakistan's newly-named World Cup captain Shahid Afridi, when the visitors needed 61 runs off 45 balls chasing 312. Nathan McCullum took a rocket of a shot from Afridi - the force of the shot bowled him over but the hands were secure.
The match highlight was the New Zealand batting order firing in full for the first time in the series. A bat-friendly Eden Park had the sort of bounce where players could confidently hit through the line.
The truncated boundaries did the rest - a nick or top edge that evaded the wicketkeeper meant third man or fine leg had to be a close relative of Usain Bolt to cut anything off.
The enigmatic Jesse Ryder provided the star turn with 107 off 93 balls. His timing was perfect and he could have been belting a tennis ball at the beach, such was his nonchalance.
He swings through the line using a minimum of energy to achieve the required result; a poster boy for biomechanists. Sohail Tanvir will reluctantly agree, getting eased for three sixes off the 10th over, all lofted strokes between deep mid-wicket and long-on.
"I had those ducks recently so I just wanted to go out and back my ability," Ryder said. "I was feeling good after that first game but it was frustrating to need a runner [when my hamstring tightened]."
Brendon McCullum could not capitalise on his musical chairs return to open but Martin Guptill played a sound anchoring knock alongside Ryder for 44 off 75 balls. They eclipsed New Zealand's previous highest partnership for the series by 39 runs (set by them in Wellington), making 123 for the second wicket.
Guptill can take confidence as our most consistent top-order batsman during the series; adding to his other returns of 40, 39, 21 and 65.
That set the base for New Zealand's second century partnership with Scott Styris and Nathan McCullum making 120 at will for the sixth wicket, including a 72 from the powerplay to propel New Zealand beyond 300.
The pair both made half-centuries at better than a run-a-ball using the short boundaries.
McCullum had a couple of let-offs but goes about his work with the zeal of a backyard enthusiast; revelling in the chance to open up his front hip and swing through the arc.
It was bizarre Afridi didn't bowl out Abdul Razzaq, who had two wickets for 23 from seven overs - yet persevered with Tanvir who went at almost 10-an-over for his one wicket.
New Zealand's fielding was sharp from the outset. The hosts created pressure and while Pakistan had parity for the most part, the Black Caps never released their grip.
A telling comparison was at the 28-over mark when New Zealand had been 153 for two and Pakistan were 154 for four. The Black Caps toiled and James Franklin produced three key deliveries shortly afterwards to extend their slight advantage.
First he had Umar Akmal caught behind, then he snaffled Kamran Akmal mistiming a drive to Ross Taylor at cover for 89 (off 84 balls). It was the first time Kamran had fired all series. Franklin followed it up by tempting Razzaq into a drive that squirted to Taylor, this time at slip, to end the over and a good deal of hope in the chase.
Guptill produced a scything throw for the third wicket to run out Shafiq, highlighting his lithe value in the in-field. Hamish Bennett produced some ox-like bowling again with four for 46 from his 8.1 overs, including several sharp deliveries that had batsmen second-guessing him.
On a sour note, Jacob Oram broke down early in the day and a scan has indicated an inflammation of his left ankle - meaning he should be OK for the World Cup.
Daniel Vettori missed yesterday's match with a hamstring strain, while Ryder didn't field after his innings and required a runner for his last 10.5 overs with the bat after feeling his hamstring tighten.