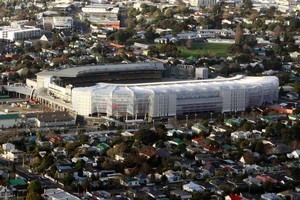 Eden Park's new layout means cricketers can be rewarded with a six for botched shot-making but experts maintain it has improved the international standard of the ground.
There was criticism in the wake of last month's Twenty20 international.
Batsmen now have a better chance of miscuing top-edged sixes in the reverse 'V' over the wicketkeeper's head - as occurred with edges skewed by Shahid Afridi and Ross Taylor over the third man fence.
It was the same last night.
Several boundaries were fluked strokes and 180 of the 565 runs came in the normal and reverse Vs.
The argument for changing to a traditional oval from a mis-shapen polygon is that the ground is better balanced for batsmen. Those who profited from left-handed cuts and right-handed hooks to a 51m boundary have had it extended by around 15m.
The pressure points have moved.
Straight-hitting has been reduced by about seven metres to 68m and top-edges only have to travel 48m (it is 58m to either end from the middle of the pitch). Some primary schoolchildren might fancy their chances of hitting a six under those circumstances - even after the temporary rugby seating has been rolled back in front of the main stands to make more room.
Former New Zealand cricketer Dion Nash played three tests and six one-day internationals at the ground.
The former Auckland representative says some might struggle with the change: "It might be a little short straight but my gut feeling is the ground is more balanced and less quirky," he says.
"Whether it is good or bad and regardless of complaints, players now have to adapt."
Groundsman Mark Perham says: "It is never going to be a huge ground but it is more even.
"We know it is bigger because we're putting out an extra seven metres of boundary rope.
"You are always going to restricted by the stands to a certain degree."
Perham admits over-pitched or even good-length balls risk getting dispatched down the ground easier and scoop or ramp shots come into play.
"It's not like players deliberately miscue balls over the keeper for six. But bowlers will aim to pitch it shorter, because they don't want to be hit for easy boundaries straight."