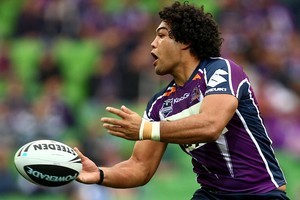 Kiwis and new Parramatta coach Stephen Kearney has urged Melbourne to re-sign Adam Blair quickly before he comes off contract this year.
As one of the most resilient and dynamic ball-playing forwards in the game - and now Kiwis vice-captain - Blair is marketable. Sources estimate his contract could be worth somewhere in the vicinity of $280,000-$300,000 a year.
The Storm should be able to fork out the money now Greg Inglis has left and the likes of Brett Finch, Ryan Hoffman and Jeff Lima signed with Wigan last year - but Blair's future has still not been finalised.
Kearney has dealt closely with the 24-year-old over the last five years. Blair started playing first grade in 2006, the same year Kearney rejoined the club as assistant coach.
"Adam is an integral part of any team. His performances and the way he conducts himself mean he must be a priority for Melbourne. He gives you no dramas; a quality individual."
Kearney suggests Blair might be considering other clubs.
"It's a question of whether others would place him in the same class, but he brings more to the table than just what he does on the footy field. That is a vital commodity with Melbourne or whoever."
Player agent Frank Endacott says Blair should be affordable: "Letting a big gun like Inglis go last year means the funds will be available even if others like Billy Slater, Cameron Smith and Cooper Cronk are still there."
Storm football manager Frank Ponissi has said he is seeking to retain up to 12 of the club's 30 contracted players for next year - with Blair at the top of the priority list.
Kearney says others - like New Zealanders Matt Duffie and Chase Stanley - will also need close scrutiny when they come off contract from two-year deals.
Duffie, the big winger who hails from St Kentigern College, made a fine impact in his debut season - scoring 8 tries in 14 games, including two against the Warriors. Stanley, a two-test Kiwi in 2007, faced a daunting battle last season behind Inglis and Dane Nielson. He made just five appearances at centre and on the wing.
"He has had limited opportunities at Melbourne, but we're bound to see more of him this year now Greg is gone," Kearney says.
"Young Matt [20-year-old Duffie] is also an up-and-comer. I have no doubt he was close to pushing for a spot in the Kiwis last year, in a similar position to Brisbane's Antonio Winterstein. It's important they keep that core group of talent bubbling."
Yet Ponissi has a large group of players to get his arms around. Gareth Widdop, 21, made his international debut with two tests for England. Storm's 2010 player of the year, Ryan Hinchcliffe, will also be looking for a new deal and would expect a raise, as will Blair. Ponissi conceded in recent interviews it would be difficult to keep everyone.
The Storm also has six players on one-year deals, with some to get an automatic second year if they meet certain targets, and the increasing value of Duffie and Widdop could make for a tight fit.
Meanwhile Kearney is relishing his new Parramatta coaching life but is yet to take up permanent residence in Sydney. His family is due to move from their serviced apartment into a new home this week. When the Herald on Sunday spoke to him, he was sitting in his office dealing with 40 degree heat, wearing jandals and shorts. Formal wear is banned until autumn.
He says his first days on the job have been spent re-acquainting himself with the differences between a club and international team.
"Working with the Kiwis is easier. You're dealing with individuals like Benji Marshall and Jeremy Smith who are the best in the business whereas some of my Eels role is helping younger players develop.
"You've got to go back to the start, spending time understanding the calibre of your personnel. There are also more dealings with board members, the structure of the club and community engagements. Basically a lot of juggling, outside of actual footy.
"But it has been a chance to gel with the team, working out how we play and train, as well as instilling a general culture. I'm into setting guidelines so there are no grey areas because you spend most of your working day with these guys."