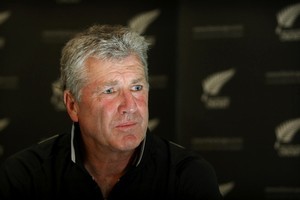 When New Zealand drew the test series 0-0 against India in 2003, then-Indian coach John Wright went to the Kiwi dressing room after the second test in Mohali.
He gave a spirited speech about why those Black Caps were the equal of any of their predecessors, even the legendary teams.
It was a message instilling self-respect. Wright wanted to illustrate it was tough competing in India and that the Black Caps had shown the required fortitude to do so.
He will be hoping to make a similar speech in several weeks, preferably in Mumbai on April 2 at the World Cup final - although he'd probably settle for Dhaka, Colombo or Ahmedabad in a quarter-final.
His brief is tricky - turning around a team that has lost 14 of 16 one-day internationals, three of those losses under his watch. Make no mistake, Wright has the job on his terms and he and skipper Daniel Vettori have the responsibility of using players as best suits them once they are at the World Cup.
Wright has got on well with the selectors over the years - Mark Greatbatch, Glenn Turner and Lance Cairns. Now it is up to him to win the minor power struggle that emerged this week over personnel and tactical decisions, particularly in Christchurch.
Wright is a canny operator behind his genial demeanour and it is no accident he is coaching this team. He was public favourite for the job but had to lobby hard to convince the board of his value after originally being overlooked in 1999.
Now the politicking is done, consistently-performing personnel are required if Wright's quest for control is to succeed. Just ask Greatbatch, Roger Mortimer or Andy Moles.
In the first one-day international against Pakistan in Wellington, Wright seemed to have a James Bond-type arsenal of weapons at his disposal. Jesse Ryder hammered boundaries, Tim Southee bagged wickets and the fielding was a mixture of steel-trap hands and laser-beam throws.
Yet heading to the World Cup after another lost series, Wright now seems more like MacGyver - trying to disarm the nuclear reactor of tournaments using the cricketing equivalent of a rubber band, a used baked-bean tin and a roll of duct tape. Somehow you suspect the ending won't be like MacGyver, either - although there is bound to be some form of explosion.
The Black Caps have lost their last 11 matches on the subcontinent since August. Few positions seem nailed down; the team is in a state of flux. Wright says he has not enjoyed the employment of rotation as a policy but must have agreed to the process, or at least been a reluctant accomplice.
It's hard to imagine such a situation happening in a similar sporting context these days, like when Graham Henry picks his All Blacks. It is an area where Wright has to flex more muscle while in his honeymoon phase.
Wright can take solace that at least few other international teams look convincing. On the evidence of this series, even Pakistan could be a World Cup threat without Mohammad Asif, Mohammad Amir and Salman Butt.
Their performances under coach Waqar Younis should offer New Zealand inspiration - an ex-playing great taking a team of talented but largely unproven players to victory in unfamiliar conditions. For Wright, that must have a promising ring to it.