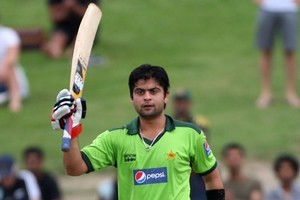 "All our batters could take a good look at the Pakistanis."
So said Ross Taylor, in his role as stand-in captain after New Zealand's latest inept batting performance, in the 41-run loss in Hamilton on Thursday.
He could have been talking about the two-test series where lessons on the art of test batting were handed out free of charge by the likes of Misbah-ul-Haq and Younis Khan.
But Pakistan's batsmen have also had the edge on New Zealand in the ODI series.
Slicing it a couple of different ways, the numbers fall on Pakistan's side both times.
Long-standing cricket wisdom has it that you need runs from the top four batsmen.
They must face the majority of the balls, and score the bulk of the runs.
Do that well, and you're in business.
But let's be generous. If you enlarge that, a comparison of the runs scored by the respective top six batsmen, and also of the No 5-7 trio, make depressing reading for New Zealand.
For the top six sample, the 5.2 overs bowled before the rain arrived in Queenstown last week have been ignored.
In the other four games, Pakistan have scored 741 runs, including two centuries and two half centuries from their first six; New Zealand's top six have produced 574 runs with four half centuries.
In the second comparison - and ignoring New Zealand's nine-wicket win in the opening game in Wellington, because only three home batsmen were required - Pakistan have got 332 runs including two 50s; New Zealand 219 with one.
"The thing I've always tried to do with coaching limited-overs cricket is emphasise to the batsmen who get an opportunity to bat in the top four or five, that it's a very privileged position," New Zealand coach John Wright said this week.
"If you get a start you've got an opportunity to go on. If you can't do that then someone else deserves a turn."
Wright makes no bones that many of the problems New Zealand are encountering right now - including shortage of confidence, general discontent, resolving the best use of bowling options - could be fixed by the top few batsmen.
"What would solve all this is if we got batters who perform and make hundreds. It's that simple.
"If two batters are making significant innings then everything will flow from that, because we do bat deep.
"We haven't had it and that needs to happen," he said.
Not a solitary century, and a highest score of 69, from Taylor in Hamilton on Thursday, is simply an unacceptable return.
The manner of dismissals is another source of serious concern.
At Napier in game four this week, the first five New Zealand dismissals were handed to Pakistan, courtesy of poor shot selection and dopey running between the wickets.
At Seddon Park on Thursday, once again the first five wickets did not exactly have to be dug out by the bowlers.
Put under a squeeze, and not even a proper bear hug, they caved in.
This time, it was a mix of ill-judged shots and another Scott Styris run out.
It is accepted that risks need to be taken at times in ODI cricket.
That's the nature of this particular beast.
But on these occasions, New Zealand's batting was weak-minded, as hard to shift as marshmallow.
It's not as if Pakistan's bowling attack is ferocious. It is good and hardworking and with three bowlers capable of exceeding 140km/h, it has more grunt than anything New Zealand can counter with.
But it's not as if Wasim Akram and Waqar Younis are steaming in, or Saqlain Mushtaq and Mushtaq Ahmed are spinning circles around the batsmen.
And that's why New Zealand's batting effort has been the more depressing of the two departments.
The bowling hasn't been consistently flash either, but they've only been really slapped about once, 293 for seven in Christchurch when Shahid Afridi flogged them with a 25-ball 65.
So as eyes turn towards the World Cup, of the two disciplines, it's the batting which is probably putting more furrows into the brows of Wright and co.