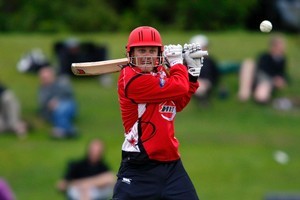 A home final next weekend is the carrot dangling in front of Auckland ahead of their national one-day preliminary final against Canterbury in Christchurch tomorrow.
As the top two qualifiers out of the round robin competition, the winner will host the final; the loser gets a second bite, in midweek against the winner of the third vs fourth game, between Otago and Northern Districts in Queenstown tomorrow.
Auckland captain Gareth Hopkins went through this scenario last year when Auckland made the final against ND, and had the week off leading up to it.
ND triumphed at Colin Maiden Park and while Hopkins feels there are some benefits from keeping playing, maintaining the drills and skills, on balance he'd rather take route one into the final.
"We're definitely pushing to win. That's our priority," Hopkins said yesterday. "Preferably you'd want to guarantee being in the final, especially a home final when we know our record at Colin Maiden is pretty good.
That would be a competitive advantage."
Canterbury as top qualifiers have been the form side of the competition, but Auckland have won high-scoring games in Christchurch in each of the past two seasons.
"We can take confidence knowing we've done well down there in the past," Hopkins said. "It's important we don't take that for granted, and concentrate and execute the plans that we've been doing in the last couple of weeks."
Auckland have retained the 12 who thumped Wellington on Wednesday, and added allrounder Andre Adams.
That win at the Basin Reserve was built on a second century in the competition from opener Lou Vincent, 112, with solid contributions from Hopkins, with 54, and Greg Todd who made 48. That anchored a total of 320 for nine.
While both Auckland and Canterbury have a group of capable batsmen, it shapes as a square-off of sorts between two batsmen on each side in strong form.
Vincent has 361 runs at 60.16; Hopkins 341 at 48.71. In the red and black corner are former Auckland allrounder Rob Nicol, who has had a terrific campaign, with 442 runs at 63.14 and 12 wickets at 20.75, and captain Peter Fulton, whose 382 runs have come at 54.57 apiece.
Hopkins played down his contribution, unhappy he hadn't kicked on to substantial innings more often, but is delighted for his old teammate Nicol, who moved to Christchurch last season.
"We all know what a special player he is," Hopkins said of Nicol. "I think he's matured in his batting, especially in the one-day form.
"He's worked out his plan on where to score and his tempo andit's really coming to fruition forhim.
"It's nice to see him doing well down there, but not too well hopefully this weekend," he quipped.
There's no second chance for Otago and ND tomorrow.
Both teams will be hoping to get more out of the total of their parts with the bat than they've managed so far in the competition.
For ND, BJ Watling's 296 runs at 59.2 are easily the best tally among their batsmen; ditto Neil Broom for Otago, whose 325 runs are at an average 54.16 per innings.
ND are taking 13 to Queenstown, with extra batting cover for Watling, who has a back strain. Left armer Bradley Scott drops out of the squad.
Otago have made one change with fast-medium Ian Butler replacing Shaun Haig.